Here at All Car Leasing, we're big fans of cars and the thrill of driving, and as such a few of us are big fans of racing games and driving simulators. In this blog post, we take a trip down memory lane and take a look at 15 of the best classic racing games ever made from years gone by.
1. Gran Trak 10
Developer: Atari
System: Atari Arcade
Released: 1974
Many people won't have even heard of Gran Trak 10, but it is hailed as the first-ever arcade racing game and therefore the grandfather of all classic racing games. Gran Trak 10 gained attention not only for being the first but for allowing players to use a steering wheel to play along with pedals and a gear shift. Atari made a loss on this game as the world wasn't quite ready for the gaming revolution but it paved the way for every racing game since.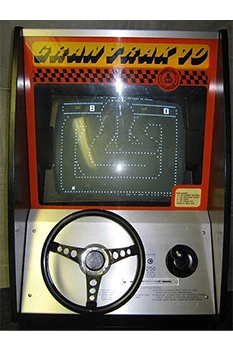 2. OutRun
Developer: Sega
System: Arcade (has been ported on many systems since)
Released: 1986
OutRun is one of the most famous racing games of all time, it was praised for its incredible graphics (at the time) and pure arcade-style fun. Out Run played as a 'pole position' game with a linear track for the player to travel down in an iconic 'prancing horse' supercar - they weren't able to use Ferrari's branding so they went for a tongue in cheek knock-off instead. In 1986 racing games did not come any more fun than this and even to this day it still holds up well thanks to its simple design. Who doesn't want to blast it down summer boulevards with a blond in the passenger seat and the top down on your expensive convertible?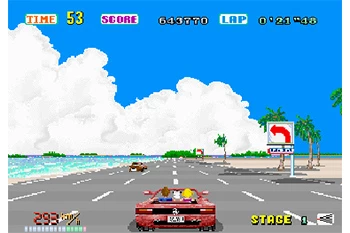 3. Super Monaco GP
Developer: Sega
System: Sega Arcade / Mega Drive
Released: 1989
Super Monaco GP on Sega arcades and the Mega Drive was my first experience of a racing game and it was amazing! Featuring just the single track which wasn't the official Monaco GP but a course that resembled it. The console version had a well-received championship mode which allowed the player to fight to win the F1 World Title over several seasons. This was a break from tradition from linear games and many players reviewed it well for giving one of the most immersive experiences to date. Super Monaco GP also started a trend by being the first racing game to feature a rearview mirror.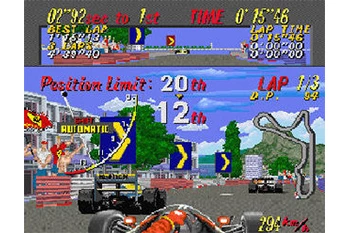 4. Micro Machines Turbo Tournament '96
Developer: Codemasters
System: Mega Drive
Release: 1996
Although this game is actually 3rd in the series and specifically an updated version of Micro Machines 2: Turbo Tournament '96 is, however, the best version of the iconic top-down racer from the 90s in the opinion of one of our employees. Featuring race tracks made from simple things in the home like a workbench and a bath, Micro Machines sees the player control toy cars from a top-down view traversing challenging courses in the quest to win the race. Turbo Tournament '96 came right at the end of the Mega Drive's life cycle and it pushed that little 16-bit console to its limits.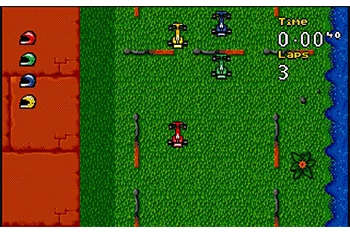 5. Formula 1 '97
Developer: Bizarre Creations
System: PlayStation 1
Release: 1997
Formula 1 '97 was not the first officially licensed Formula 1 game for the PlayStation but it was such a massive leap in terms of quality from the first that it became a massive smash hit. Racing games were becoming more and more popular with the advancement in graphics with the fifth generation of home consoles. Formula 1 '97 was the first real F1 game to bring the realism of the sport to your home any time you wanted.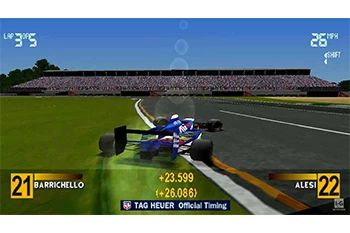 6. Super Mario Kart
Developer: Nintendo
System: Super Nintendo
Release: 1992
Super Mario Kart proved that you don't have to take yourself seriously to be a great video game. Released in 1992 to critical acclaim, this classic racing game had various Nintendo characters racing around colourful courses in karts all the while throwing and dodging bananas, shells, and bombs, making it more about an arcade experience than a true karting simulator. The game is an icon in the gaming industry as a game that anyone can play and have fun thanks to short, exhilarating races which could change on a sixpence. The Mario Kart series is still going strong, with Mario Kart 8 being one of the best selling games of all time, with over 41 million copies sold!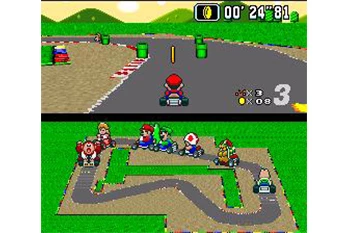 7. Gran Turismo
Developer: Sony
System: PlayStation
Release: 1997
Gran Turismo was the first video game to come anywhere near a true 'driving simulator' and despite it looking quite aged by today's standards, in 1997 this game was incredible. The first Gran Turismo shocked everyone with its stunning level of detail and hundreds of licensed vehicles that can be personalised and tuned to the player's liking. The courses included in the game were real-life courses, too, which further enhanced its professional image like the one true racing game. Everything changed with the release of GT and the benchmark was set. At the time, Gran Turismo was the best racing game of all time and some would argue that it still is.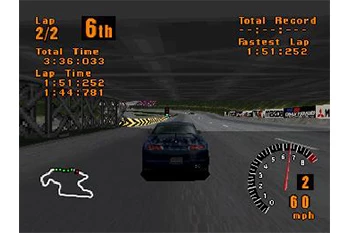 8. Sega Rally Championship
Developer: Sega
System: Arcade, Sega Saturn
Release: 1994
Sega Rally is a rally simulator most famously played on Arcade Machines in places like the cinema or the bowling alley in the 90s and early 2000s. Sega Rally was a pioneer in off-road racing simulators and allowed players to experience racing on different surfaces other than tarmac. Highly addictive and with gorgeous graphics for its time Sega Rally entertained millions of kids over the years and gave them all a bare-knuckle high-speed experience complete with a driving wheel, pedals, and a feedback chair that bumped and vibrated realistically. Modern games such as Dirt and Colin McRae Rally have a lot to thank Sega Rally.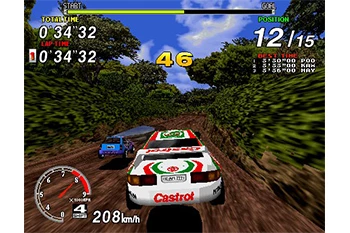 9. Road Rash
Developer: Electronic Games
System: Mega Drive
Release: 1991
Road Rash is one of the most iconic racing games ever which not only had a pretty good (illegal) racing element but a combative side as well. You can kick, whack and punch other riders off their bikes to win. The courses were linear but gorgeously detailed showing various parts of America such as the Rocky Mountains and the Nevada desert. As the player progresses through the game, faster and faster bikes were unlocked taking the gameplay to even faster and more dangerous heights. During the console wars of the 90s, Sega wanted to become a more mature console and Road Rash was their way of appealing to that audience against Nintendo's Mario Kart madness.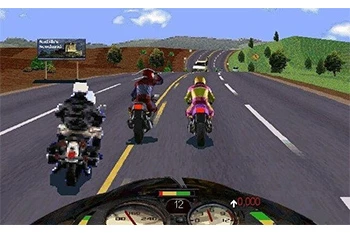 10. Crazy Taxi
Developer: Sega
System: Arcade, Dreamcast
Release: 1999
Sega has a big history when it comes to making classic racing games and Crazy Taxi definitely sits up there with the most famous with gamers of all ages. Crazy Taxi has a simple premise of going to pick up a customer and take them to a location in strict time trials. This very simple premise along with fun driving controls and physics, and a fantastic soundtrack has made it into one of the most iconic a-to-be-driving games of all time. This game started off in the Arcades and Sega's sixth-generation console the Dreamcast before being ported to the PS2, GameCube, PS3, Xbox 360, and even Android and iOS.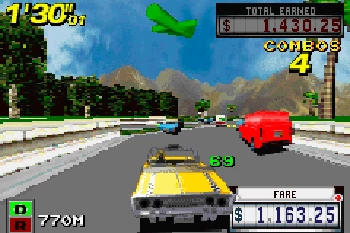 11. Simpsons Hit and Run
Developer: Vivendi
System: GameCube, PS2, Xbox
Release: 2003
Simpsons Hit and Run was a fantastically hilarious game that finally let players explore Springfield like never before. Heavily inspired by Grand Theft Auto III, this was a technically brilliant game - and not just a game living off the Simpsons brand! The game had a heavy driving focus with many levels and tasks involving racing other characters and time trials. The game was helped by the actual cast of the Simpsons which made it a truly genuine experience and not just a fantastic racing game.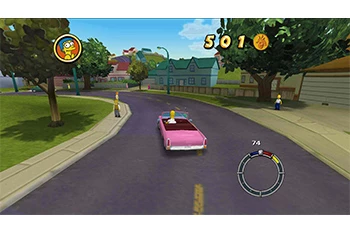 12. Daytona USA
Developer: Sega
System: Arcade
Release: 1995
Daytona USA is a game you've probably only seen in the arcades. It's a simple game that sees the player take control of a stock car and takes part in the famous Daytona race starting in last with the objective of staying ahead of the time trial and beating all other racers. As an arcade game, this was not meant to be a game spent playing for hours and hours and as such most games were quick blasts that ended in failure. However, with Sega's vast experience of racing arcade games in the 80s and 90s, this was incredibly fun from start to finish especially with the arcade boxes with pedals and steering wheels.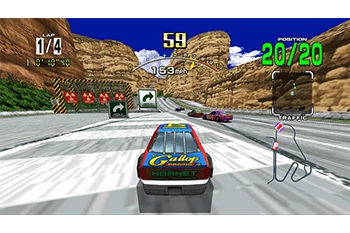 13. WipeOut 2097
Developer: Psygnosis
System: PS1
Release: 1996
WipeOut is a series of futuristic racing games famous for high octane and lightning-fast races, similar to Nintendo's F-Zero. The first WipeOut was well received but it was the second WipeOut (2097) that really made this game. At the time, there was nothing quite like the sheer speed that WipeOut had to offer and although the series is still going with WipeOut 2048 2097 still remains a classic racing game that many gamers from the 90s remember fondly.
14. Pole Position
Developer: Namco
System: Arcade, Atari
Release: 1982
Pole Position isn't that widely known as gaming was not prominent at all in 1982. However, for those lucky enough to experience this game at the time it was out they got to experience one of the best 3D racing games ever made. In the same way that Gran Trak 10 become the precursor to this, Pole Position could possibly be one the most important racing games ever which helped pave the way for practically every racing game since. In its heyday, it was the highest-grossing arcade game in the USA even beating Pac-Man. Wow.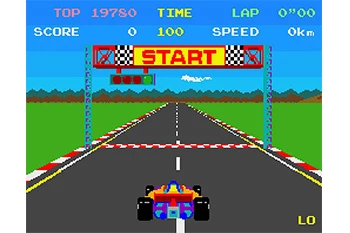 15. F-Zero
Developer: Nintendo
System: Super Nintendo
Release: 1990
F-Zero was the first of its kind of futuristic racing games. It also predates Super Mario Kart as the NES/SNES first popular console racing game. F-Zero featured four different hovercars, fifteen different tracks, and three different championships to really bring an immersive single-player or multiplayer racing game to the masses. At the time, the graphics were mind-blowing with really colourful and detailed courses and hover cars. F-Zero became a cult classic and although the series is no longer active it has still continued to be ported as the demand for nostalgic classics continues to increase.
Let us know what you think of our list. Have you played any of these classic driving games? Are there any we've missed that you think should be added?
If you've landed on our website and wanted to see what we do then why not take a look at our personal car leasing page for our latest offers.
Related Articles:
Editor's Note: This post was originally published on 16 January 2019 and has been updated for freshness, accuracy, and comprehensiveness.