While leasing cars is our game of choice, we also have a huge love for driving games. In this blog, we're checking out some of the very best racing games of all time, as rated by Metacritic. If you're looking for a game that focuses more on the customisation of your car, be sure to check out our comprehensive guide here.
Thousands of racing games have been created over the past few decades as popularity began to shift from arcade cabinets of old to next-generation consoles. As there's now so many to choose from, there's something for everyone's appetite - but the best ones aren't necessarily the newest.
Metacritic rate these games in two ways, a meta score and a user score. Meta score is generated by critical reviews from respectable publications, at least four of which must review the game in order to produce a meta score. The user score is generated from the average score of user-submitted feedback.
As you read this article, keep in mind that while these are the best racing games of all time according to meta-critic, the consensus was taken relative to the time of the games' release and most of the 'wow factor' has now disappeared from modern racing games thanks to many of these predecessors taking the spotlight. Essentially a sugar-coated way of expressing our disappointment that Need for Speed Underground 2 didn't make the cut!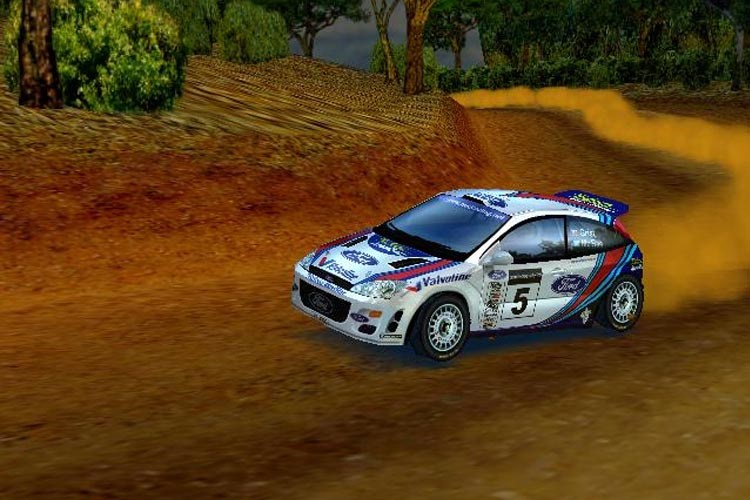 25 - Colin McRae Rally 2.0 - 2000
Developer: Codemasters | Publisher: Codemasters | Metascore: 90
The old Colin McRae games now live in the shadow of the DiRT Rally franchise, but the release of Colin McRae Rally 2.0 on the original Playstation 1 (as well as PC and Gameboy Advance) had an incredibly good reception with critics and players due to the realistic graphics and damage physics, with the only negatives being how difficult the tracks were despite their small size, described by IGN as inhumanly difficult. 
That's a common trend with rally games though, they're known for being unforgiving compared to their racetrack based rivals. Speaking of tracks, CMR2 features 8 different courses based in a variety of countries, with the added ability to race at different times of the day. You can race through these stages with 22 unique cars to choose from.
This was the second installment in the Colin McRae series however its release didn't come without competition, Ridge Racer V and Midnight Club: Street Racing was also released in the year 2000 but was instead released for the brand new Playstation 2, but the real competition came from Gran Turismo 2, released in the year prior for Playstation 1.
If you're craving a bit of nostalgia but don't own a Playstation 1, Codemasters released a remastered version of CMR2 back in 2013, available on Steam, Android & iOS.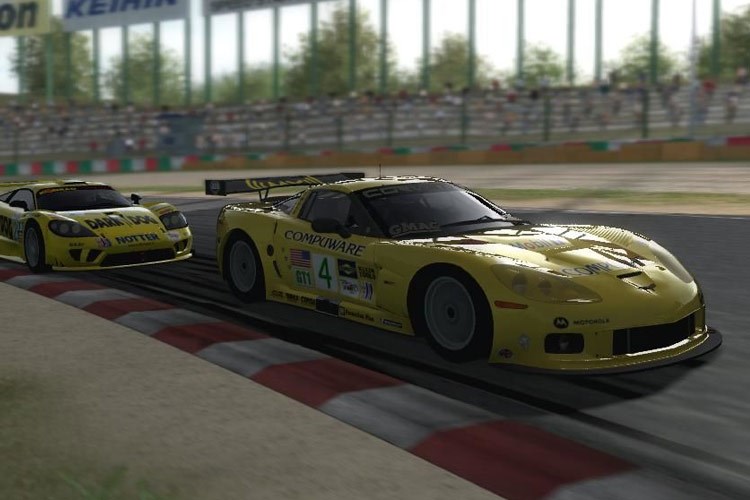 24 - Forza Motorsport 2 - 2007
Developer: Turn 10 Studios | Publisher: Microsoft Game Studios | Metascore: 90
Released exclusively to the Xbox 360, the Forza Motorsport series garnered its early fame from the second installment in the series, Forza Motorsport 2. The game was eventually sold as part of a bundle deal with new Xboxes, further spreading the game's exposure without being directly purchased. 
Featuring 349 different cars and 47 race tracks, players could delve a step further than traditional racing games by customising their car's paint job in a fairly comprehensive (for its time) livery editor, this leads to some incredibly detailed designs and was a popular way to make money on the in-game auction house, where players could buy and share their souped-up cars. FM2 also popularised the ability to fine-tune your car on a granular level, you could tweak everything from tire pressure to gear ratios. 
I think this is why the game had such a cult following - online lobbies were filled with entirely different communities, some people just wanted to have fun by drag racing on the Nurburgring strip, others preferred to drift around the Tsukuba circuit, but it was this level of variety that kept the game fresh for players until the next installment.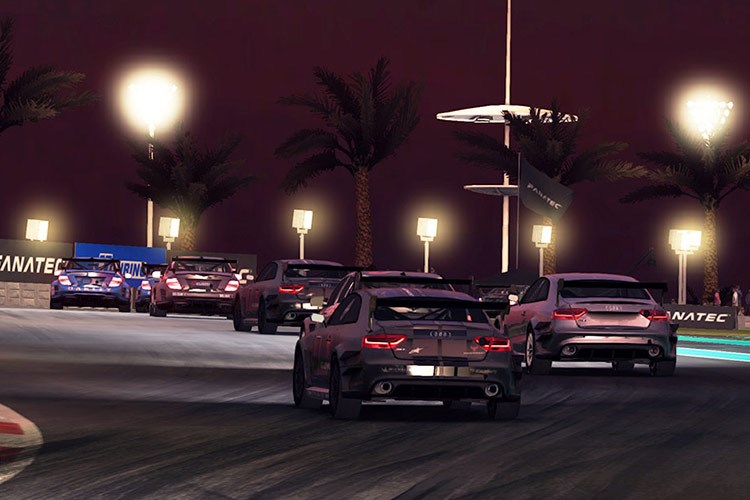 23 - GRID Autosport (iOS) - 2017
Developer: Feral Interactive | Publisher: Codemasters | Metascore: 90
While GRID Autosport is available to play on pretty much every platform (PC, Playstation 3, Xbox 360 & Nintendo Switch), it was its mobile adaptation developed by Feral Interactive that saw the GRID franchise reach new heights. 
The mobile game market is objectively the largest market available to game developers as more people own smartphones than game consoles, so the game had a second coming when it was available to download on mobile. Much like the Need for Speed franchise, GRID focuses on arcade-style gameplay rather than simulation, so the mobile game was essentially an even more simplified version of the console game, which featured 22 different locations with varied routes to race through.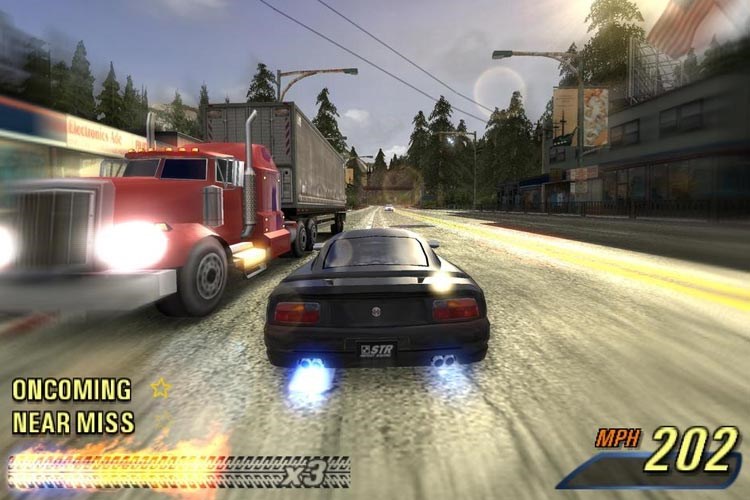 22 - Burnout Revenge - 2005
Developer: Criterion Games | Publisher: Electronic Arts | Metascore: 90
The Burnout series was all the rage back in the '00s, so much so that a new game was released every year or two, or a new console adaptation would be announced. Traction started to dwindle after the release of Burnout Revenge though, as both this and its predecessor Burnout 3: Takedown could never be bested by newer games in the series and Criterion wanted to step away from the racing genre. 
Burnout games had drastically different gameplay to other driving games out there, the entire theme was based around destruction and causing chaos by ramming traffic and other objects in the environment to score points. 
The game had 77 cars in total which could be used in a variety of different game modes both single and multiplayer - World Tour, Crash mode, Burning Lap, or Eliminator. Critics praised this installment in the series for having a fantastic soundtrack and addicting gameplay but did note that load times were longer than usual for a Playstation 2 game.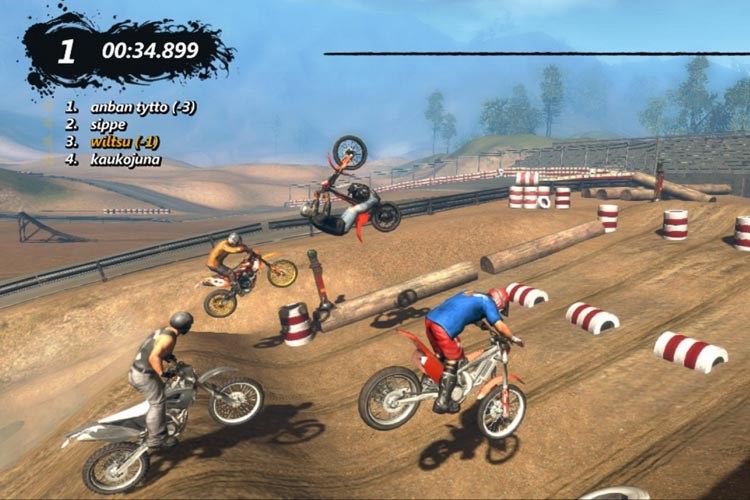 21 - Trials Evolution - 2012
Developer: RedLynx | Publisher: Ubisoft | Metascore: 90
While the Trials series has nothing to do with cars, Trials Evolution is the highest-rated racing game in the series as well as the Metacritic hi-scores, so it was certainly worthy of a mention. 
Trials Evolution is a motorcycle stunt game in which players could compete on a time trial basis or against one-another on assault course inspired levels. The base game had plenty of variety but you could also create your own tracks and share them with an in-game editor. Trials Evolution was available on the Xbox arcade and had a fairly low price-point compared to most games, making it more accessible to younger audiences and a demo version was also available to help increase exposure.
A little known fact about the Trials series is that there is also an alternate reality game secretly embedded into various areas of the game, such as the soundtrack, random letters, and image association.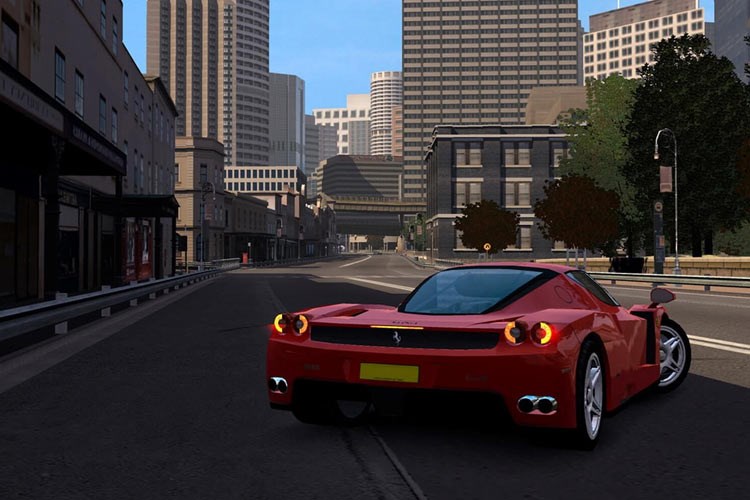 20 - Project Gotham Racing 2 - 2003
Developer: Bizarre Creations | Publisher: Microsoft Game Studios | Metascore: 90
If you had an original Xbox, chances are you'll have owned this game. The Project Gotham series is exclusive to Xbox however a mobile game was eventually released in 2007 which branched out from this exclusivity.
PGR2 featured 102 different cars playable across three different game modes. Kudos World Series, the game's main campaign consisted of completing challenges throughout a race while driving as fast as possible, as opposed to simply driving around a circuit and finishing in the first place. Other modes consist of Arcade Racing and a Time Attack mode.
Critics praised PGR2 for its realistic graphics and fun multiplayer.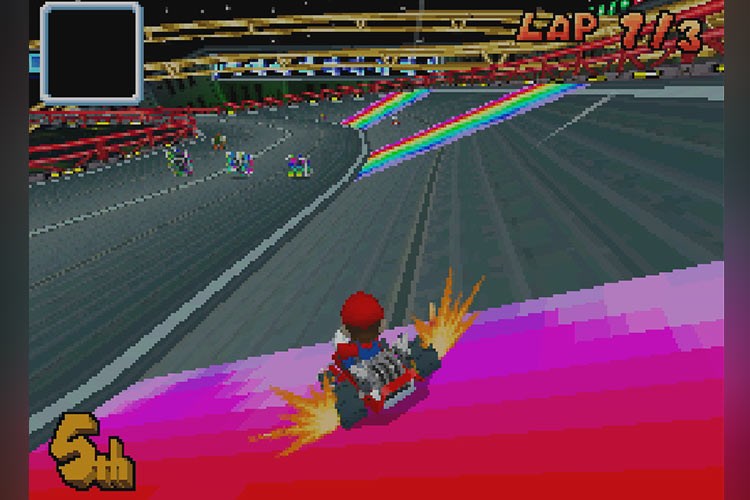 19 - Mario Kart DS - 2005
Developer: Nintendo | Publisher: Nintendo | Metascore: 91
The Nintendo DS is now in its third generation, but upon the release of the original handheld console, Mario Kart DS became one of the best-selling games of all time for the DS platform. 
The Mario Kart series is still a popular title to buy to this date, players can control their favourite characters from the Mario cast and take advantage of power-ups placed around the infamous tracks (shout out to rainbow road). Speaking of infamy, this game saw Bullet Bill's first appearance in a Mario Kart game, a power-up which turns you into a Bullet Bill and flies you around the course automatically.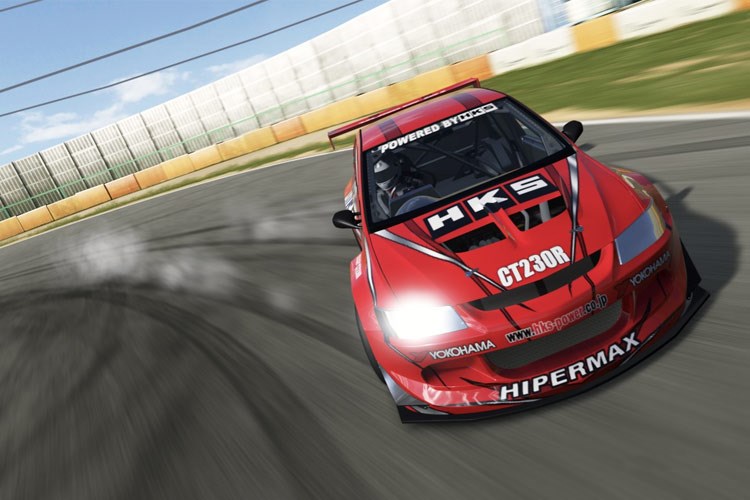 18 - Forza Motorsport 4 - 2011
Developer: Turn 10 Studios | Publisher: Microsoft Studios | Metascore: 91
The racing game segment had already become fairly oversaturated by 2011, so the release of a new Forza game would be instantly met with fierce competition from the likes of Gran Turismo and Need for Speed. 
At this point, every new Forza title had brought something new and unique to the series, so for this installment, the developers decided to team up with one of the most recognisable brands in the entire automotive industry - Top Gear. This partnership was mainly utilised for the game's narration, a new Autovista feature was introduced which allowed players to check out cars in detail, which would be voiced over with noteworthy information from Jeremy Clarkson and James May.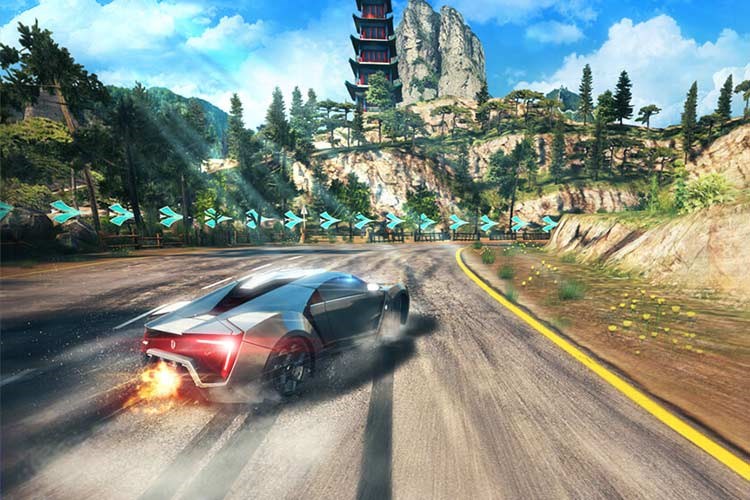 17 - Asphalt 8: Airborne (iOS) - 2013
Developer: Gameloft | Publisher: Gameloft | Metascore: 91
For mobile game enthusiasts, the Asphalt series will be a household name. We wrote about Asphalt 9: Legends in one of our other car game-related articles on car customisation, however, it's predecessor Asphalt 8 was more focused on stunt racing (think Burnout, but less chaos and a more stylised environment) as opposed to arcade street racing like Need for Speed. 
The Asphalt series is up to its ninth title however the eighth rendition blew up in popularity as the game was released around the time everybody started to buy smartphones. Many of the critics compared Asphalt 8 to the Burnout series but with added beauty and copious amounts of fun to be had for a mobile game, the image above doesn't even look like it's taken from a mobile game!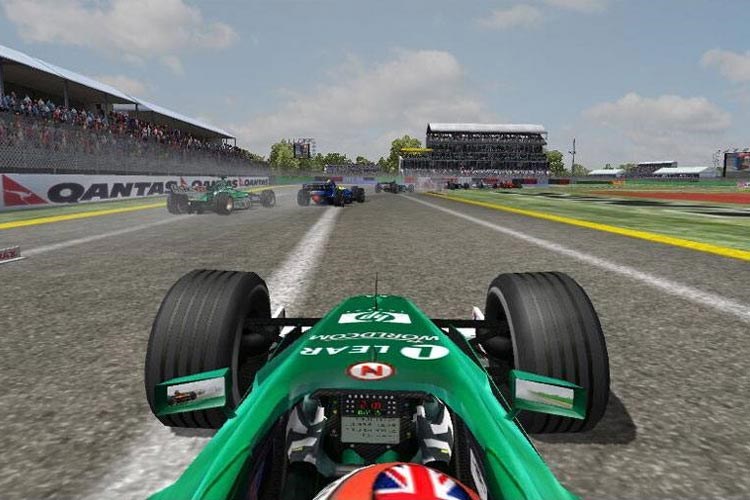 16 - F1 Challenge '99 - '02 - 2003
Developer: Electronic Arts | Publisher Electronic Arts | Metascore: 91
F1 Challenge was an early racing simulation game made by Electronic Arts, however, this isn't the same F1 series that you still see on the shelves today; the Formula 1 license was once exclusive to EA before Sony took over and dominated the PS2 market with a revitalised series. 
EA managed to create an F1 Challenge by utilising the 4 years' worth of licensing they had previously paid for, so nothing noteworthy from it's the year of release (2003) was included in the game. 
EA had an advantage over Sony at the time as they had developed a solid game engine that could run realistic (at the time) graphics without too much strain on the game's respective platform. The game also had a large modding community behind it, who produced non-F1 related tracks like Le Mans.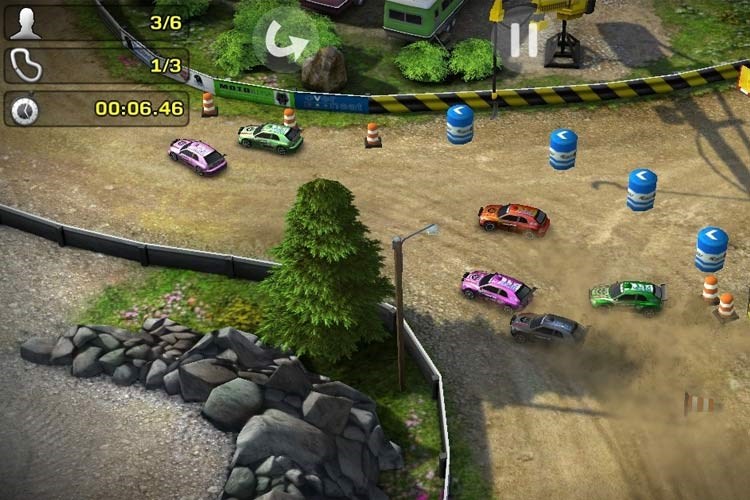 15 - Reckless Racing 2 (iOS) - 2012
Developer: Polarbit | Publisher: Polarbit | Metascore: 91
Unlike most mobile games, Reckless Racing 2 isn't available for free or on any form of trial basis, it costs £1.59 on the app store which is a fairly low price to pay for a well-built game, I think we've been spoiled by so many games being available for free but with micro-transactions or irritating ad placements around the screen. 
The game consists of 18 different cars and 24 unique race tracks which you can drift around corners and hazards throughout the course. Despite the game's 91 Metascore across 14 critics, the user score was significantly lower-rated as 6.7 from 18 ratings, it makes you consider whether mobile game critics are reviewing games with a slightly different lens to the consumers who end up playing them.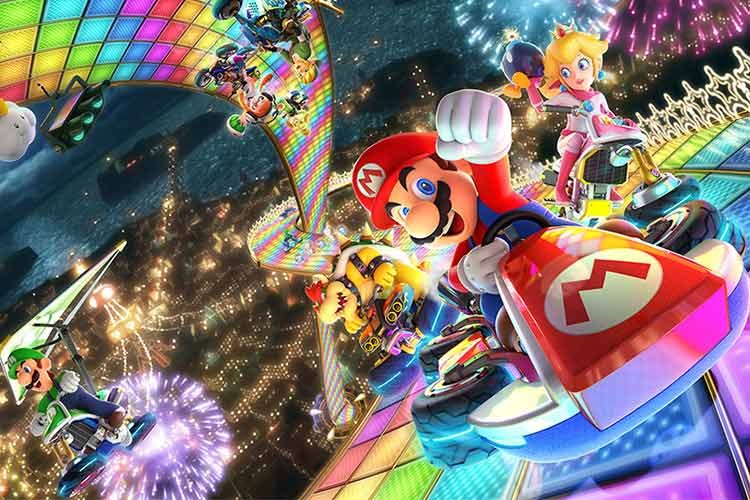 14 - Mario Kart 8 Deluxe - 2017
Developer: Nintendo | Publisher: Nintendo | Metascore: 92
Mario Kart 8 Deluxe is the latest installment in a long-lasting, critically acclaimed series ported to the Nintendo Switch after the flop of the Wii U console. It's the same game as the Wii U version however you get all of the content previously locked behind DLC - hence called the deluxe. 
It's close to being the best Mario Kart game of all time, coming second only to Mario Kart Super Circuit released for Game-boy Advance back in 2001; a running trend for the top-performing MK games is that they're all available for handheld consoles... though that is pretty much Nintendo's specialty these days.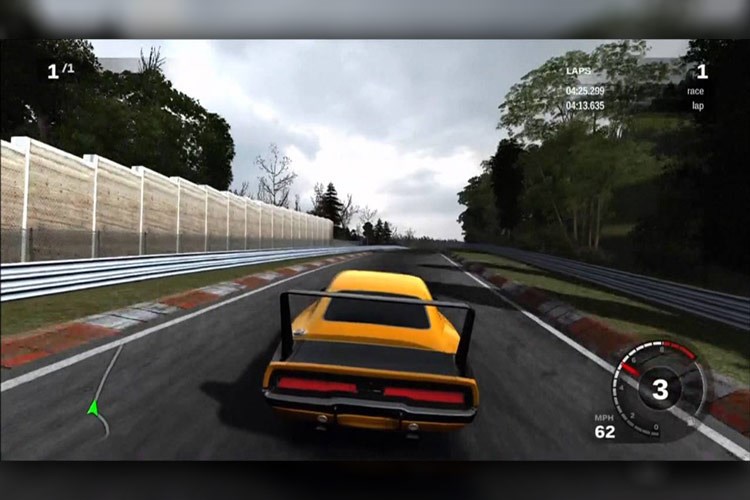 13 - Forza Motorsport 3 - 2009
Developer: Turn 10 Studios | Publisher: Microsoft Studios | Metascore: 92
After the success of Forza Motorsport 2 and a significant amount of time passing, the Forza series was in desperate need of a sequel. When Forza Motorsport 3 finally landed, the game had over 400 cars to choose from and a whopping 100 race track variations. Multiplayer returned, along with new game modes catered to the communities formed back on Forza Motorsport 2, including drag racing, drifting, and stock car racing - on top of the standard circuit racing, of course. 
A new rewind feature was also introduced, allowing players to re-play the past few seconds if they make a mistake, this was a controversial addition to the game as making mistakes and capitalising off of the mistakes of others is an enormous part of competitive racing. 
Much like its predecessor, FM3 eventually went on sale as part of a new console bundle, which played a big factor in the growth of the Forza series early on in its lifetime.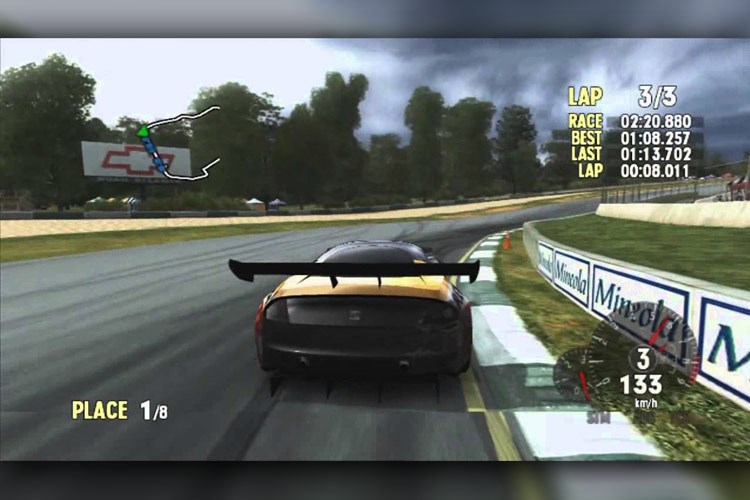 12 - Forza Motorsport - 2005
Developer: Turn 10 Studios | Publisher: Microsoft Studios | Metascore: 92
It's surprising that the first-ever game in a series would out-rank a game two generations ahead, but much like the original Gran Turismo, the first Forza Motorsport game was incredibly good for its time. Released back on the original Xbox, critics left glowing reviews for finding a happy medium regarding the game's difficulty. It was accessible to players new to the genre but also catered for the more hardcore audience - it was easy to learn, hard to master. 
The soundtrack was also great and this was a big selling point for the first three Forza Motorsport games in the series, before being re-visited in the Forza Horizon series as the focal point of the game's theme, based on a fictional music festival in the Australian outback named Horizon; this eventually grew into a sister-title of the Forza brand.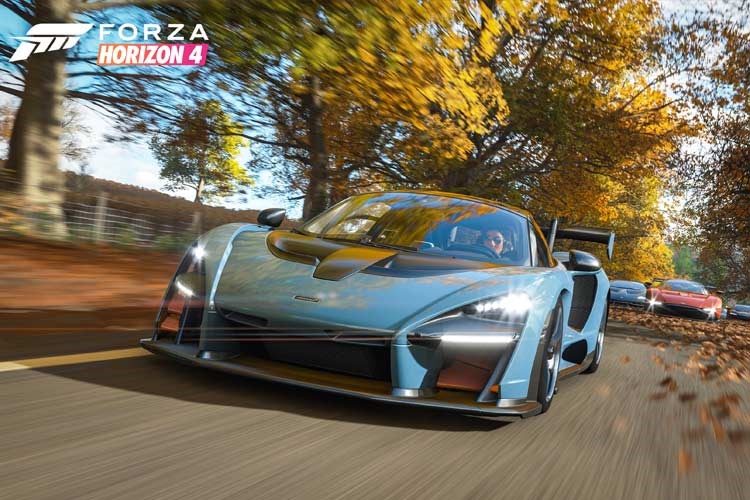 11 - Forza Horizon 4 - 2018
Developer: Turn 10 Studios | Publisher: Microsoft Game Studios | Metascore: 92
In my opinion, Forza Horizon 4 is one of the best arcade racing games of all time. The graphics are phenomenal, the scenic open-world environment is designed after an amalgamation of Edinburgh and the Lake District, which are home to some of the best driving roads in the UK. Like most Forza games, the choice of cars is enormous and each has its own unique set of customisation options, however new to Forza Horizon 4 were body kits modeled after their real-life equivalents, such as Liberty Walk Nissan GTR's and RWB Porsches. 
The game was hit with some negativity upon its release though, multiplayer racing was solely team-based, so you couldn't take a victory for yourself and your victory was based solely at the mercy of how well your term performed in the race, which, you guessed it, invited lots of trolling. 
Another wave of controversy came after the game's second expansion, which announced a partnership with LEGO where players could blast around a re-modeled environment styled after the world-famous LEGO Speed Champions in LEGO-fied versions of real-life cars, like the McLaren Senna - the game's cover car. This DLC was criticised by hardcore fans of the series as being childish, however, the previous Horizon game's Hotwheels DLC was hit with a similar controversy, but ended up being praised for its creativity and outright fun.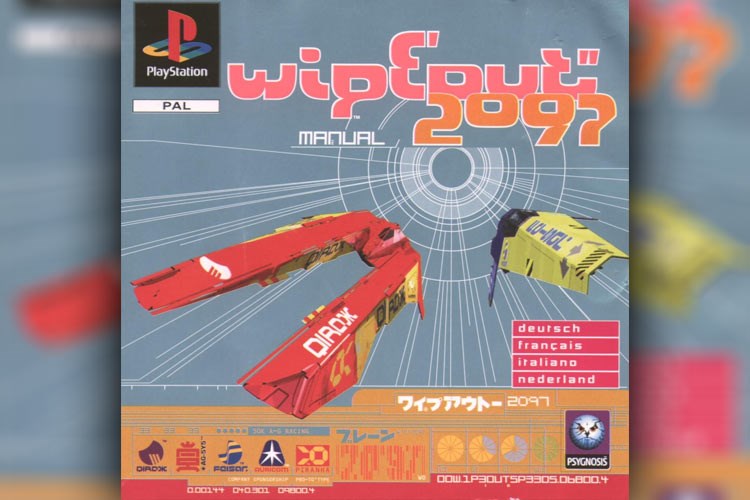 10 - Wipeout 2097 / XL - 1996
Developer: Psygnosis | Publisher: Psygnosis | Metascore: 93
The second generation of the Wipeout series brought about the release of Wipeout XL with improved graphics, a smoother, less blocky experience, and much more variety; the title eventually sold over a million copies and would carry on the Wipeout bloodline 
Critics praised the game for being "an improvement in nearly every way over the original, which was arguably the best racing game previously made for the PlayStation" but also noted that the game's soundtrack was also incredibly well put together, featuring songs from the Chemical Brothers, The Prodigy and Underworld.
If you're thinking the critics are wrong in saying that Wipeout XL was the best PS1 racing game - keep in mind that this was released two years before the first-ever Gran Turismo game. The premise of the game is anti-gravity racing, so the vehicles used are futuristically styled, a bit like the pod racers in Star Wars: Episode 1 - The Phantom Menace, and the aim is to simply beat the competition - whether that's AI or your friend playing co-op.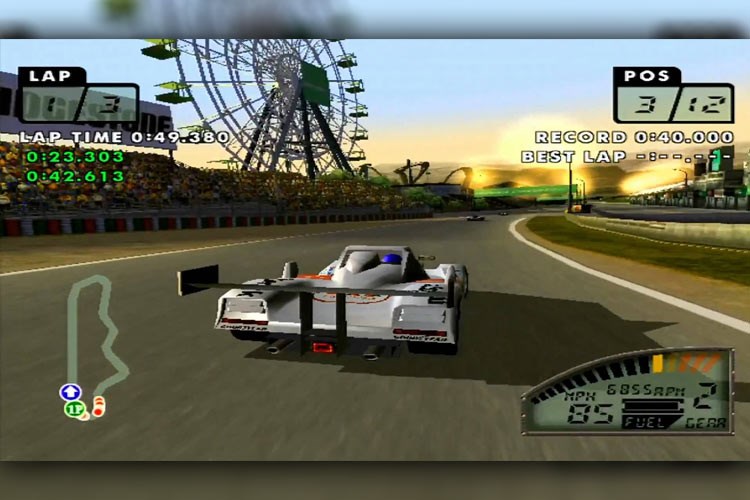 9 - Test Drive Le Mans - 2000
Developer: Infogrames | Publisher: Infogrames | Metascore: 93
Test Drive Le Mans is actually the tenth game in the Test Drive series, it began back in the late eighties and hasn't returned since 2012. This game was released for the Dreamcast which wasn't inundated with racing games at the time and was launched two years after the Gran Turismo series began. 
While it was also released on other consoles, the positive reviews came from the Dreamcast version of the game as they had managed to successfully bring a flavour of Gran Turismo with the game but had a good balance between full simulation and arcade fun. 
The game's namesake is based on the real-life 24 hours of Le Mans race which is an annual event held every year in France, however, the game also had other famous circuits like Road Atlanta, Suzuka, and Donington Park. One of the unique selling points about Test Drive Le Mans is its day/night and weather system adding extra variety to the gameplay, but it wasn't until much later in the life of racing games in general that weather conditions would have significant effects on the car's handling.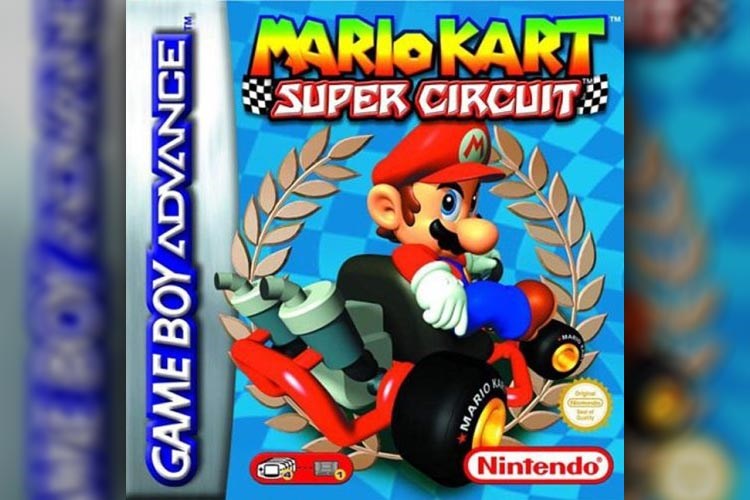 8 - Mario Kart Super Circuit - 2001
Developer: Intelligent Systems | Publisher: Nintendo | Metascore: 93
The handling in Mario Kart games still to this day reflects the old-school charm of early racing games like OutRun and Mario Kart Super Circuit. 
Released for the handheld Gameboy Advance, players could set up and play anywhere with up to four friends and pick from a range of different characters, obviously much less of a selection than the current-gen Mario Kart games, but all the fan favourites - Mario, Luigi, Peach, Toad, Wario, Yoshi, and Bowser. From one small cartridge, you could choose to form up to 40 different tracks which are an enormous amount when you consider how small the cartridge memory would have been back in 2001.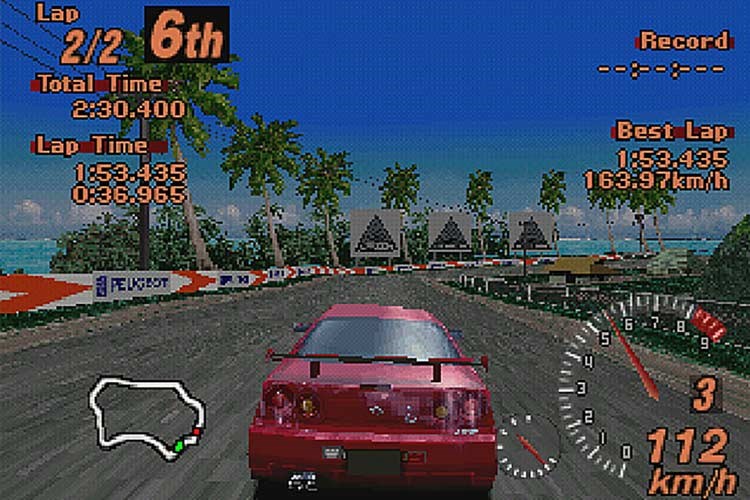 7 - Gran Turismo 2 - 1999
Developer: Polyphony Digital | Publisher: Sony Computer Entertainment | Metascore: 93
Gran Turismo 2 was launched one year after the first game in the series due to a roaring success. GT2 built upon the original game by improving the graphics, choice of cars and bringing a variety of new tracks. At the time, critics claimed it was "The world's most advanced racing game" however the game still used the same engine as it's predecessor, though they did add a brand new rally mode to test the waters on whether it'd be something the fans wanted. Perhaps the most impressive feat of GT was to enable gamers to drive their real-life personal lease or business lease in many cases. 
The game sold over 9.37 million copies by 2008 with the majority sold in America, Europe, and Japan. Despite the game's success, it didn't come without controversy - the game was launched with a few painful bugs such as powerful cars spawning in events based on the much lower caliber of cars (making winning impossible), cars being deleted from the player's garage upon saving the game or being unable to attain 100% completion of the game.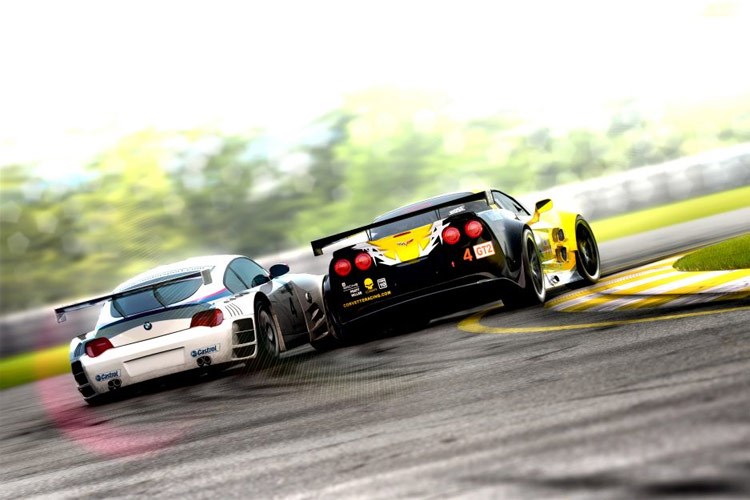 6 - Real Racing 2 (iOS) - 2010
Developer: Firemint | Publisher: Firemint | Metascore: 94
Real Racing 2 is a mobile game that was released back in 2010 and was developed by Firemint games before being bought out by EA, which now holds the license to the title. The game's rise to popularity was similar to Reckless Racing 2 and the Asphalt series, they were all released right as the mobile game market erupted thanks to smartphones becoming mainstream.
The game featured 30 real-life cars to choose from, however, the circuits themselves are purely fictional but vary in their style. Players could play against each other online with up to sixteen players in total in a single race. 
While mobile games aren't for everyone, it's the mobile game market which helps to push smartphone manufacturers into implementing more advanced hardware into their next-generation phones, as mobile game graphics are moving in ginormous paces in such a short space of time, some companies such as Razer have even taken it upon themselves to release their very own gaming phone.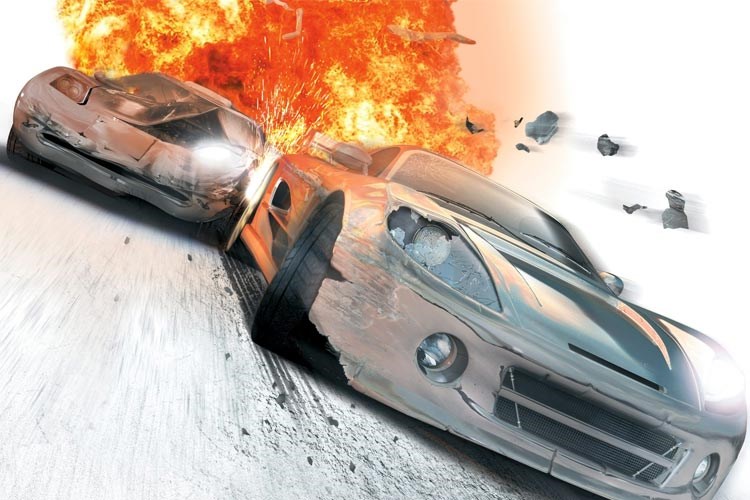 5 - Burnout 3: Takedown - 2004
Developer: Criterion Games | Publisher: EA Games | Metascore: 94
Despite restricting the ability to customise your car and creating a realistic handling experience - something which car enthusiasts (and therefore, racing game enthusiasts) hold quite dearly, Burnout 3 is hailed as one of the best driving games of all time. It was a full package of good graphics, addictive gameplay and a great soundtrack, it's definitely nostalgia-inducing as they simply don't make games as next-level as this anymore.
Previously Criterion games used to make their own soundtracks, however, working with EA allowed them to use licensed music from bands such as Rise Against, My Chemical Romance, Fall Out Boy and loads more. Paired with an aggressive gameplay experience, Burnout 3 became more about violence than racing - players would fight through traffic as opposed to race through, knock their opponents into oblivion and get your body pumping with adrenaline. This was an inspirational theme for racing games of the future like Blur and Split/Second: Velocity.
4 - Jet Car Stunts (iOS) - 2009
Developer: True Axis | Publisher: True Axis | Metascore: 94
Only 6 critics rated this game so it's position near the top spot could be somewhat undeserved, however, across the 6 critics, half of them gave the game a 100/100 score and dubbed Jet Car Stunts as one of the most addicting games on the mobile platform. 
Released in 2009, right at the start of the previously mentioned smartphone craze, Jet Car Stunts was an over the top stunt racer with unique level designs and sleek controls. You could only drive one car, however, this wasn't the point of the game - it was just a fun, easy to pick up stunt game filled with jumps and flying through the air.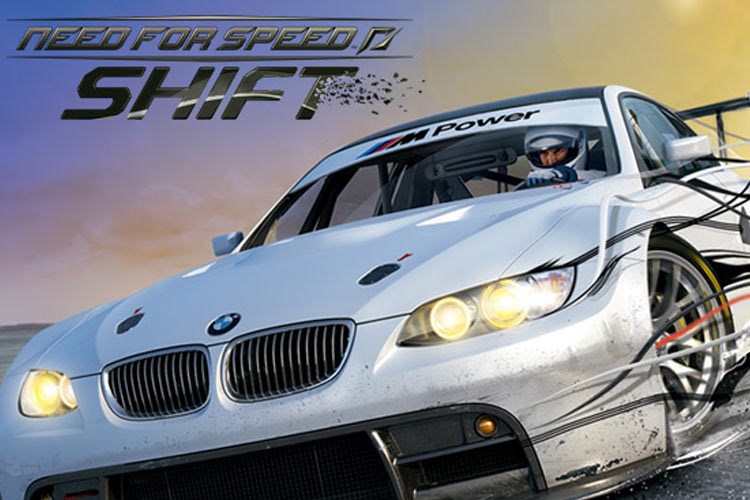 3 - Need for Speed Shift (iOS) - 2009
Developer: Slightly Mad Studios | Publisher: Electronic Arts | Metascore: 94
Another game with only 6 Metacritic reviews but high in the ranking is Need for Speed Shift on mobile. I'm glad that the Need for Speed series has managed to get a mention in this list though I'm surprised it's for one of the less popular titles. Anyway, despite being a mobile game, the game was huge in size, with 6 different cities to beat and around 20 licensed cars to complete it with, so if you're commuting to work on the bus or train each day, this game would last you for quite some time.
Need for Speed Shift was one of the original three Need for Speed titles which looked to provide a new arc for the series (think Forza's Horizon title) which was more focused on simulation-style racing, racing on proper race tracks instead of illegal street racing like the series' predecessors.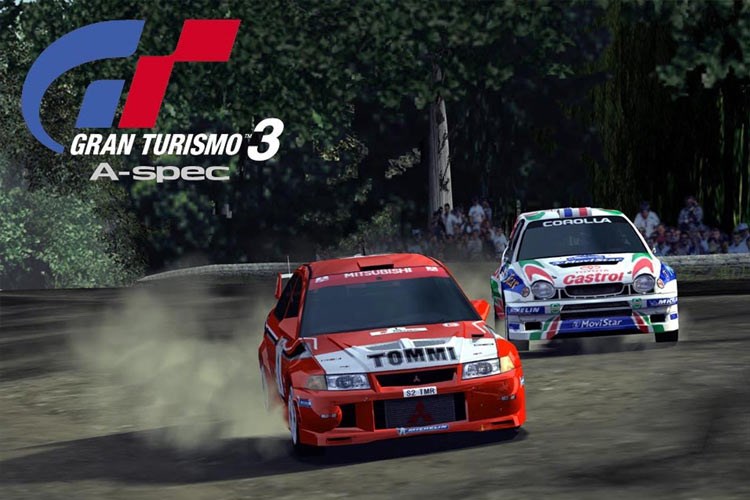 2 - Gran Turismo 3: A-Spec - 2001
Developer: Polyphony Digital | Publisher: Sony Computer Entertainment | Metascore 95
Metacritic aside, the third installment of the Gran Turismo series was not only the second-highest-rated racing game of all time but also one of the best selling video games of all time. Similar to Gran Turismo 2, this new release was essentially the same game but better. It had two new tracks over the previous game and a refreshed soundtrack, new cars to race, and a variety of different licenses to compete for. It was the best driving simulator game of its time and is a series that still lives on to this date.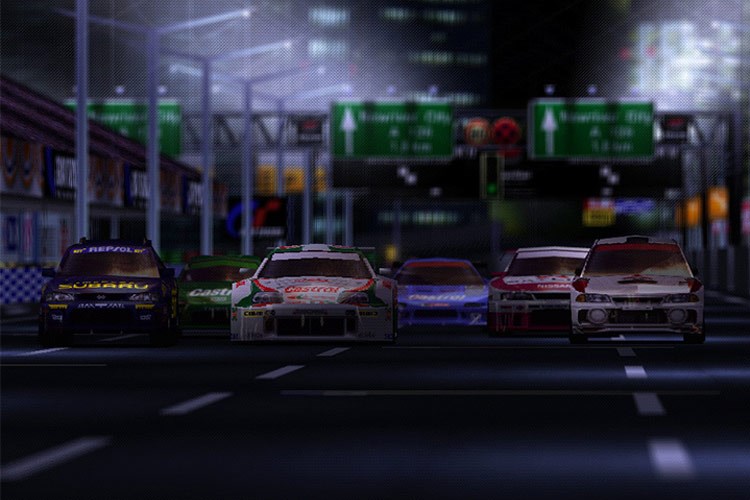 1 - Gran Turismo - 1998
Developer: Polys Entertainment | Publisher: Sony Computer Entertainment | Metascore: 96
Here it is, the number one racing game of all time... the original Gran Turismo. If you were an early adopter of the Playstation 1, this was the game to get, it's five year development time was well worth the wait. The concept was so new for its time that you could sit and play it for hours on end and still not get bored.
As a series, it's one of the longest in the racing genre next to the likes of Need for Speed and each title raises the bar with intensive new graphics, considerably more cars to drive, and challenging AI updates. 
The original Gran Turismo featured 140 cars to choose from and 11 different tracks to race them, along with two separate game modes - Arcade and Simulation. 
Arcade mode gave you the freedom of choice on the car and course which you could use to unlock more cars and tracks as a reward. Simulation mode was based around earning various different driver's licenses to enter certain events and was more championship based - essentially this was the game's career mode.
The Best Racing Games by User Score
If you don't quite trust the critics or want to find out the opinion of the masses, check out the table below. Bear in mind though, as user score is based on user-generated reviews, certain games may be vote brigaded to reach a higher score than they deserve (that's right, I'm looking at you, Shrek Swamp Kart Speedway). As you'll see though, many of the games listed here are mentioned in the meta score list, which accurately represents the public opinion and won't have been manipulated.