Nothing lasts forever, including our cars. We've all had to part ways with our beloved four-wheeled vehicles. Maybe you sold it, or the lease ended. Perhaps it was scrapped, or it was stolen (we hope not). However, some cars are left in rather peculiar locations, and they are often not alone. 
What is a vehicle graveyard?
A vehicle graveyard is an eerie location where a large number of cars, trains, planes, and even ships are gathered and left to decay. Many of these destinations become popular tourist destinations, especially for urban explorers and photographers.
Here in the UK, there have been a handful of spooky car graveyards littered in hidden locations! We picked out some that we think are the most interesting, most spooky, and perfect for car enthusiasts.
Reliant Robin Graveyard, Wales
Everyone remembers the iconic Reliant Robin, the three-wheeled wonder that Del Boy and Rodney drove during their hysterical attempts to make it big. The historic car is known for being a very questionable invention in British motoring.
It may be surprising to most to find out that a large number of Reliant Robins are slowly decaying in a Welsh car graveward. However, the area is actually owned by the Cae Dai 50's Museum, which went up in flames following an arson attack in 2009. The museum was repaired but the Robins remain in a state of ruin.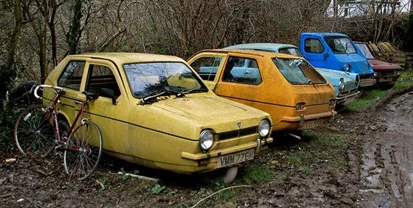 Southgate Works, Preston
After a massive fire broke out at a car dealership in December 2018, roughly 150 cars were damaged in the blaze, leaving them burnt to a crisp and abandoned. The few cars that survived the blaze were left half-buried in foliage.
This site is no longer standing, as the building itself became a major safety risk, with metal supports that once held up the roof hanging dangerously overhead, the only sensible decision was to demolish the area.
Unlike other car graveyards, these sad remains were not intentional, however, it is believed that the fire was started deliberately, absolute car-nage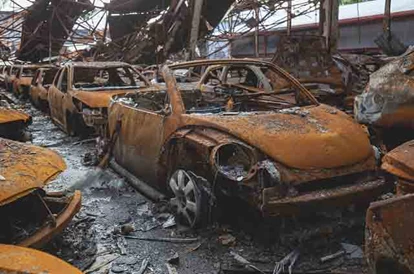 Triumph Graveyard, Cheshire
Between the 1960s and '80s, Triumph Spitfire was a popular car for street and rally racing winning multiple sports car championships as well as the 1964 Tour de France rally and won its class in the Alpine Rally.
However, a bunch of the iconic British cars was left to rust in Appleton when interest to convert them to left-handed drive for America died, leaving them unwanted and abandoned for mother nature to take over.
The location has since been cleared with the majority of the cars scrapped, and only a handful of the rarer cars being restored.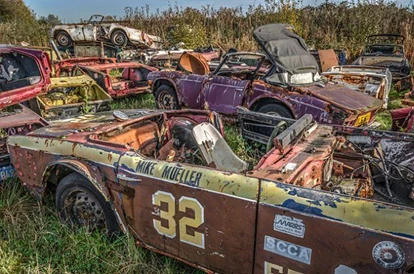 Vehicle Graveyard at RAF Folkingham, Lincolnshire
The former Royal Air Force station was built in 1940 to be used for the Royal Air Force and United States Army Forces, it was a vital troop carrier airfield for airborne units during the Second World War. Following this, the site became one of the UK's first-response nuclear sites.
After being decommissioned in the '60s, the open area was used by British Racing Motors for a short while, and was later used by Lincolnshire Police for driver training, but was later sold to agricultural interest. The southern half of the airfield is now home to one of the largest vehicle graveyards in Britain.
The graveyard is home to a wide range of abandoned vehicles, including transport trucks, diggers, and tractors, most of which have been stripped for parts and left as empty shells of history.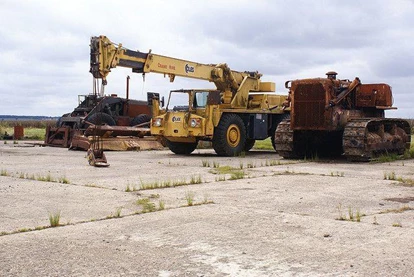 Reliant Scimitar Graveyard, Derbyshire
A large number of Scimitar sports cars can be found huddled together in a cemetery in Ashbourne. Its origins are unknown, but it's a picturesque and haunting location, perfect for car enthusiasts.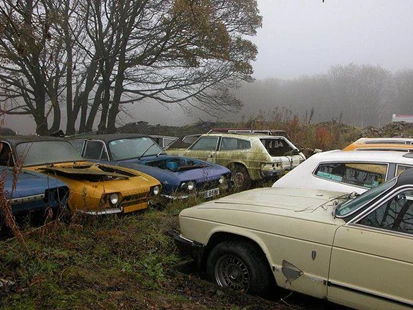 Do you know of any other pockets of engineering history in the UK? Let us know!
Find out more about vehicle history with the following blogs: