Now, it's a tradition for us Brits to dip into our favourite alcoholic beverage during the Christmas season, whether that's the Cherry, Bailey's or Mulled wine that gets you in the festive spirit (and a little tipsy), Santa Claus loves to get involved as well! 
All around the world, families typically leave Papa Noel biscuits and beverages in return for his lovely gifts, but have you ever considered that he may be too drunk to even ride his sleigh, let alone quietly sneak into the house to hide the presents under the tree? We thought not! 
In our latest study which strays away from our offerings of personal leasing and business leasing deals, All Car leasing has discovered which drinks are most commonly provided to Santa throughout major cities across the UK, along with how much alcohol Santa is actually consuming. The results indicate that Santa takes just over five years to sober up from just one of his Christmas deliveries! In a nutshell - he'd be permanently sozzled until he retires!
In order to calculate how much Santa would drink on his travels, we figured, with him being a polite and considerate man he'd at least have one sip (equating to roughly 16ml of each drink) from each drink. For each beverage type, we calculated how many units would be found in 16ml and multiplied this by the number of households with children under the age of 15, with an average of two children per household, this allowed us to work out the total number of units Santa would end up drinking in each city. We have also factored in the alcohol that would already be wearing off - we based this on losing one unit per hour.
Santa consumes the majority of his alcohol units in London, 31,360 units in fact, due to the high alcohol content in Cherry. From the data we have collected, we have actually been able to work out that Santa Clause' visit to the south of the UK would have the largest impact on his drinking, as he would consume the most alcoholic units between London, Bristol and Cardiff than the rest of the UK put together! 
Assuming he started in the South of the UK on his way from Spain and France, he would work his way up to Sheffield where they would attempt to sober him up with 33,500 sips worth of water, but that would still be nowhere near enough to see him through the trip, he would have to have some of the water that people have left for Rudolph and the gang as well, after all, he's visiting Leeds next where he'll be expecting some Beers. Take a look at the full breakdown below to find out what your city likes to give Santa on Christmas Eve!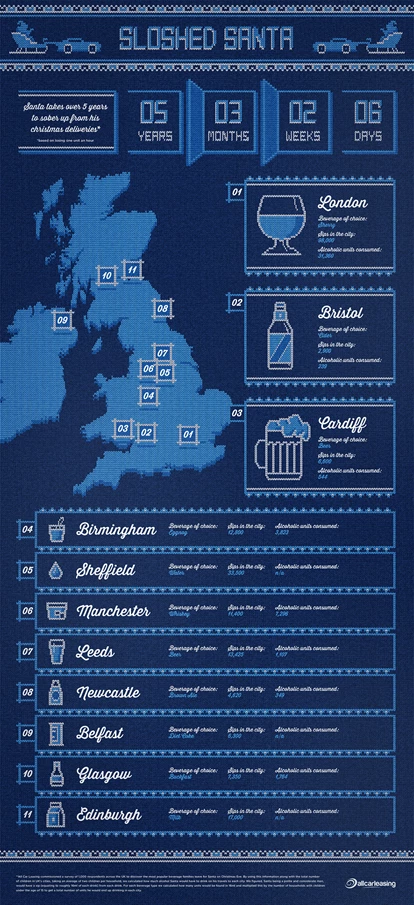 Don't forget that Santa visits other countries before and after he reaches the UK, where traditions may vary.
Santa usually decides to start in the Pacific Ocean and travels west across the globe. Starting with New Zealand and Australia, then he travels to Japan, Eastern Europe and Asia, off to South Africa next and works his way onto Western Europe, where he encounters the UK, before reaching Canada, the US, and finishing off with Mexico and the rest of South America. That sure is a lot of drinks! 
After a long shift of delivering presents to children across the globe and enjoying his obscene amount of drinks and snacks, Father Christmas can then sit down with his wife Mrs Clause, Reindeers and elves back at home in Lapland where he can put his feet up and have a years rest before the festive season comes back around and he has to do it all over again - even if he is still over the limit!
We hope you've enjoyed our festive study - If you would like to share this infographic with your friends or on your own platform and would like a hi-definition .PNG version of the image, feel free to send an email over to marketing@allcarleasing.co.uk with your request and we'll do the rest!
---
You can view some of our other featured articles using the links below -