With congestion getting increasingly worse, many drivers are now opting for an automatic transmission car as opposed to the traditional manual to make their everyday commute that little bit easier and eliminate 'clutch ache'. With modern automatic gearboxes having improved quite significantly over the past decade, they can change gears much faster than in a manual and in some cases offer a much higher and more consistent MPG. Driving a manual may eventually become a thing of the past if the future of motoring is geared towards hybrid and electric vehicles, which are exclusively automatics due to the lack of moving parts and 'lack' of actual gears.
In 2018, the most affordable automatic car was the Fiat 500. Let's see how things have changed in the last four years. Read on to see our top five affordable automatic cars for both personal car leasing and business car leasing.
Skoda Fabia
Taking the crown from the Fiat 500 as the cheapest automatic lease car on our website is the Skoda Fabia, a popular small hatchback that offers reliable engineering and basic style on a budget, its sleek body lines, and comfortable, roomy interior make the new Fabia as easy on the eyes as it does on the bank. The DSG is the automatic version of the Fabia, making this practical little supermini hard to fault.
| | | |
| --- | --- | --- |
| Pros |   | Cons |
| + Reliable |   | - Basic style |
| + Very affordable |   | - Not as smooth as the Polo |
| + Spacious interior       |   | - Noisy suspension  |
Check out our latest automatic Skoda Fabia lease deals here.
Honda Jazz
The Jazz has an incredibly competitive price given how much you actually get for the money, It's got the largest boot in the super-mini segment thanks to its boxy shape and has a choice of economical engines of varied power output. Now with its new facelift, the Jazz sports a much more modern look and no doubt led to the model winning an Honest John award for being the most popular small hatchback.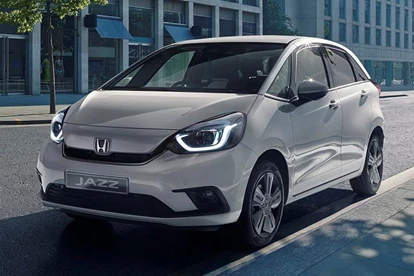 | | | |
| --- | --- | --- |
| Pros |   | Cons |
| + Good size boot |   | - Only available with a petrol engine |
| + Sporty looks |   | - Uninspiring rear-end |
| + Great passenger space for a car of its size       |   | - Not much sound deadening  |
Check out our latest automatic Honda Jazz lease deals here.
Toyota Aygo
The little Toyota Aygo is a common sight to see on the road these days, the popular model is back once again with a mid-life refresh, its recognisable shape hasn't changed much compared to the now pre-current model, only the bumpers and lights have received most of the attention - as is a tradition of a face-lift - however Toyota has now increased the range of paint options available for the model and increased the level of sound-deadening. Another plus is that you can get the Aygo with a folding fabric roof if you opt for an X-Wave model. It's not as up-market as the Volkswagen Polo on the inside (through the Polo is more expensive), but the Aygo is easy to drive and uses a very efficient engine, though most will opt for an Aygo based on its looks and affordability.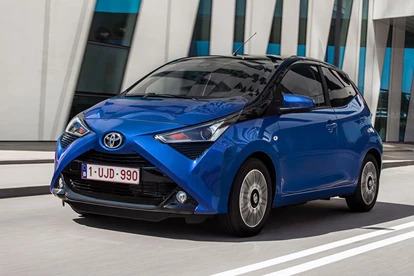 | | | |
| --- | --- | --- |
| Pros |   | Cons |
| + Quirky looks |   | - Small boot |
| + Very economical |   | - Lots of hard plastic on the inside |
| + Good all-round visibility       |   | - Only one front windscreen wiper  |
Check out our latest lease deals on the automatic Toyota Aygo here.
Nissan Juke
The iconic Nissan Juke is popular on British roads due to its familiar design and economical engines. The Juke is a more compact crossover than the mid-range Qashqai. The DCT is Nissan's automatic take on the small SUV and is a popular choice due to its easy driving and efficient experience.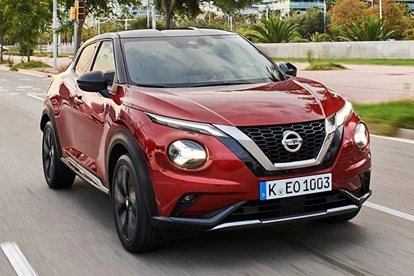 | | | |
| --- | --- | --- |
| Pros |   | Cons |
| + Smart |   | - Reliability |
| + Safe |   | - Comfier cars out there |
| + Economical       |   | - Choppy |
Check out our latest lease deals for the automatic Nissan Juke here.
Volkswagen Polo
Of the bunch, the Polo is the best all-rounder, though it is a little bit more expensive than the rest, nonetheless, the Polo offers great value for money, the DSG gearbox is very highly rated among motorists and motor journalists alike and the styling is very modern and attractive. The interior looks up-market too, you get comfy cloth seats and a smart-looking touchscreen infotainment system, along with the option to choose a range of different colours to accent areas of the cabin. There's no option for a three-door model anymore, so you'll get the highest level of practicality no matter what you choose.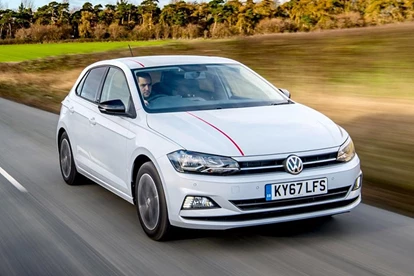 | | | |
| --- | --- | --- |
| Pros |   | Cons |
| + Bold styling |   | - Most of the good stuff costs extra |
| + Well-built interior |   | - Entry-level engines aren't very powerful |
| + Fantastic gearbox       |   | - Tends to collect dirt on top of the rear bumper  |
Check out our latest automatic Volkswagen Polo lease deals here.
It's no surprise that the most affordable automatics are mostly city cars - they are built for a purpose after all - however, you can save money on a wide range of other models including ones that come with an automatic gearbox by heading over to our special offers page, where we have an enormous range of cars for you to choose from. Alternatively, you can check out another one of our car guides on the best affordable crossovers, if you're after something slightly bigger to fit all of the family.
Editor's Note: This post was originally published on 10th September 2018 and has been updated for freshness, accuracy, and comprehensiveness.