The Best Times to Take Your Driving Test
Out of all the available time slots on each day of the week, the one which saw the highest pass rate overall was between 14:00 and 14:59 on a Sunday, with 55.8% of those taking their test at this time passing, with the roads relatively quiet on a Sunday afternoon, when fewer people are commuting.
Generally speaking, later time slots proved to be the most successful times to take the test, with those around the morning rush hour and lunchtime having the lowest pass rates.
On the other hand, it was tested earlier in the day that tended to have the lowest pass rate, with the lowest of all being 12:00-12:59 on a Sunday, with just 33.8% of candidates passing at this time.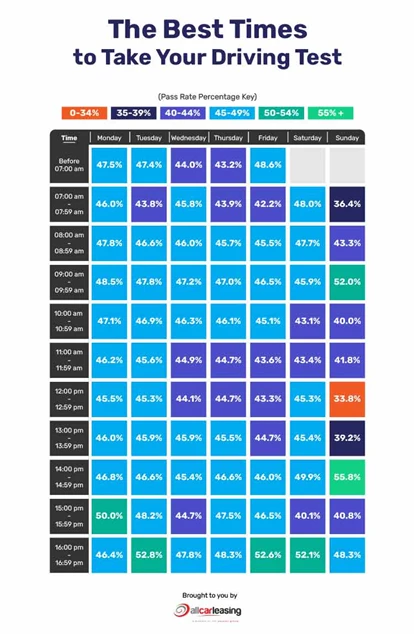 The Best Days to Take Your Driving Test
Looking at which days of the week could be most advantageous for passing your test, it seems that Monday is your best shot at success, with a 46.9% pass rate.
On the other hand, despite having the individual time slot with the highest pass rate, Sunday was actually the day which saw the least passes overall, with 43.28%. Again, this seems to go against the common wisdom that doing your test at a quieter time gives you more chance of a pass.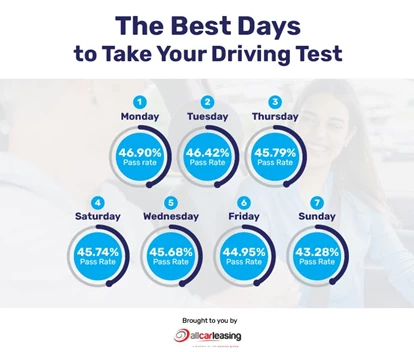 | | |
| --- | --- |
| Day | Pass Rate |
| Monday | 46.90% |
| Tuesday | 46.42% |
| Thursday | 45.79% |
| Saturday | 45.74% |
| Wednesday | 45.68% |
| Friday | 44.95% |
| Sunday | 43.28% |

Methodology
All figures were sourced from a Freedom of Information request submitted to the Driver and Vehicle Standards Agency (DVSA) and refer to practical car driving tests undertaken in 2019.
Note that we removed tests taken in later time slots (from 5pm onwards), as these figures were skewed due to very small numbers of people taking the test at these times, with either very high or low pass rates at these times.