We conducted a study of 1216 dog owners in the UK on their car habits living with a dog. Our survey asked a variety of different questions, and outlined must have car features. From our results, we found the best cars on the market from each vehicle type that we think have the most features canine lovers most desire in a new car. We have produced an infographic outlining some key facts based upon our findings.
The importance of safety in your vehicle cannot be undermined, and that's both inside and outside of the vehicle. One incredibly important factor that we must not forget applies to dog-owners, and that's remembering to ensure maximum safety for your pooch, as well as yourself of course!
Key Findings
- Travelling with an unrestrained dog in the car could lead to a criminal offence
- 21% never let their dog in their car
- Dog smell and dog hair are the main reasons
- 62% of those who allow their dogs in the car take them into consideration with a new vehicle purchase
- A large boot, easy boot access and quality seats being the most desirable features
- 1 in 3 dog owners admitted driving their car without their dog secured
---
Do you let your dog in your car?


We asked 'Do you let your dog in your car' to determine how many dog owners don't even let their pet in their vehicle, and you would be surprised to find out that 21% of our audience responded that they simply wouldn't. The biggest reason for which was due to dog hair overwhelming the vehicle and sticking to the seats. We agree that nobody exactly wants to climb in to find dog hair everywhere, which would then attach itself to your clothes and other belongings. However, this issue can be countered with a variety of different dog covers; which will not only save the seats but provide a great amount of comfort for your pup; available on some vehicles with the choice of an optional dog pack.
Our second most popular reason was due to the standard 'doggy smell' that finds itself inundating the car, which many people struggle to remove! Unfortunately, air freshener won't remove the smell either, resulting in 28% agreeing this was the most frustrating reason.
Other reasons included:
A lack of space in the car for their dog.
Worries about safety for their dog.
Seats being destroyed.
Being put off of driving due to excessive barking or silly behaviour; which we agree could lead to some pretty nasty accidents or a raging headache.
So if you don't have the right restraints or a cage, you should always be careful when taking your dog in the car! Surprisingly enough, misplacing your dog and being distracted can be classified as 'undue care and attention', which is a punishable driving offence, and can carry a maximum penalty of £2500 and 9 points on your license.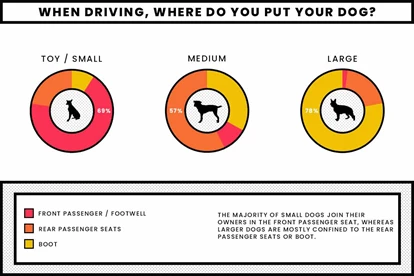 When driving, it's important to make sure your pet is safe whilst your driving, not only for their safety but your own as well. It's best to keep your dog in a crate in the boot, as they are restrained and cannot interfere with your driving by jumping on your lap or rummaging around the car; however, it's not always possible to keep a crate in your car due to the sheer size of the crate. When we asked our audience where they kept their dog on their commute, 35% of respondents said that they kept their pooch in the boot, 38% said they kept them in the back seat and surprisingly 27% let them sit on the front seat, and potter about as they wish. This can be dangerous though, as they could knock the gear stick or block the windscreen, which could result in a crash or dangerous driving, so please bare that in mind!

Have you bought a specific car for your dog?

One of the most important questions we had to ask our audience, was whether or not they had bought a specific car when considering their dog's needs. Normally, the best cars for dogs tend to be estate vehicles, crossovers, SUVs, and MPVs due to their increased space and incredible practicality, with features such as '60:40 split' and flat-folding rear seats. When we asked our respondents if they do consider their vehicle, our results indicated that 62% of dog-owners do specifically think about their dog when coming to purchase their vehicle. We analysed the results to find out what the most common vehicle was when purchasing a new car and came to find some contrasting results: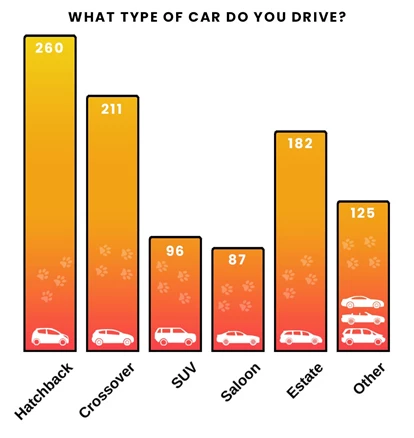 Out of the 961 people who do let their dogs in the car:
Hatchback: 260 people
Crossover: 211 people
SUV: 96 people
Saloon: 87 people
Estate: 182 people
Other: 125 people
The results above may seem surprising to you as it did to us. We thought that most dog-owners would simply own an estate, SUV, or crossover. However, the data we received correlates with our previous information, in that smaller dogs are more popular, meaning that a hatchback provides enough space for them and larger boot space may not be necessary.
When Considering Your Dog's Needs, What Is The Most Desirable Feature?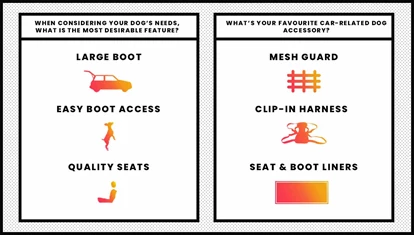 Regardless of the vehicle you choose, having the correct accessories and features for your dog is essential for any dog-owner, as it can play huge importance as to whether or not your dog is safe. Some of these features are optional extras and some come as standard, check out the list below:
Most Desirable Features-
Our results indicated that having a large boot was the most desirable feature as you can fit in a bigger dog with ease, as well as being able to fit your other essentials in alongside, perfect for summertime road trips and long hauls. But, you will still need to invest in a dog ramp. Another desirable feature is having easy access to the boot so that a bigger dog can simply jump in. And the last feature is having high-quality seats so that you can avoid damage if the dog were to sit in the rear seats and scratch them with their claws; and any mud that is brought into the vehicle can be also easily be wiped off.
Favourite Dog Accessories-
Having dog accessories is more likely a necessity than an option, as it provides substantial safety and comfort for the dog and driver. Fitting a dog fence or dog crate provides a barrier between the rear seats and boot to keep the compartments separated. A dog seat cover is great in avoiding hair sticking to the seats, which can also be removed and washed with ease, and a dog safety belt is another great alternative in ensuring safety.
New Prospect:
Tesla- Dog safety is blatantly on the rise as Tesla has recently introduced its new 'dog model', which tells passersby that your pet is ok in the car. The new feature makes sure that the air-con is on constantly for the pet and displays the temperature of the cabin at all times, and if there is an issue, the owner receives an alert through the Tesla app so that they can rush back to the vehicle. 
Summary
Thanks for reading our study - If you want to keep up to date with our other featured articles be sure to check out the rest of our blog section, whist you're here, why not check out our personal car leasing page to see if any of our special offers stand out to you?"