Drivers can reach speeds up to 215 MPH 
It has been discovered over 55 potholes would damage the tracks
Over 177 bus routes would be affected
Over 600 jobs would be created for each event
With racing returning to our screens with an amended calendar and the need to limit international travel, this got All Car Leasing and Auto Racing Driver, Jon Lancaster, discussing what the future could look like for Formula One if it was to come to the UK.
Monaco, Singapore and Baku host some of the most iconic street circuits in the Formula One calendar. Street circuits have long been a hot topic within the racing world, with ex-Formula one boss Bernie Ecclestone unveiling plans for a track in London, which unfortunately has remained a pipe dream.
Considering key factors such as key landmarks, noise control, quality of road surface, traffic signals new track layouts have been designed by, All Car Leasing brokers of personal car leasing and business car leasing deals, to showcase Manchester, Liverpool, Birmingham, Edinburgh and Cardiff. The sights and sounds of F1 cars blazing around the streets of the UK at up to 200mph is not as far away as you might think: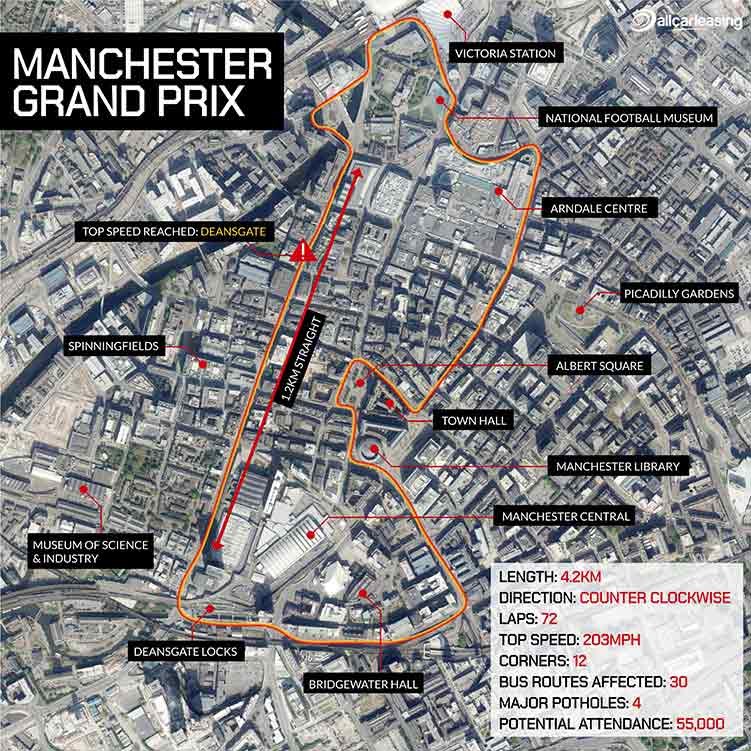 The Manchester Grand Prix features
The Manchester route starts on the long stretch on Deansgate, and unlike the other tracks is anti-clockwise. The cars would start with a left turn, passing Deansgate Locks then heading towards Albert Square. The race would pass Manchester Town Hall and go down towards the Arndale Centre.
Length - 4.2 km
Direction - Counter Clockwise
Laps - 72
Top Speed - 203 MPH
Corners - 12
Bus Routes affected - 30
Major potholes - 4
Potential socially distanced attendance - 55,000
Sites of interest - National Football Museum, Manchester Arena, Deansgate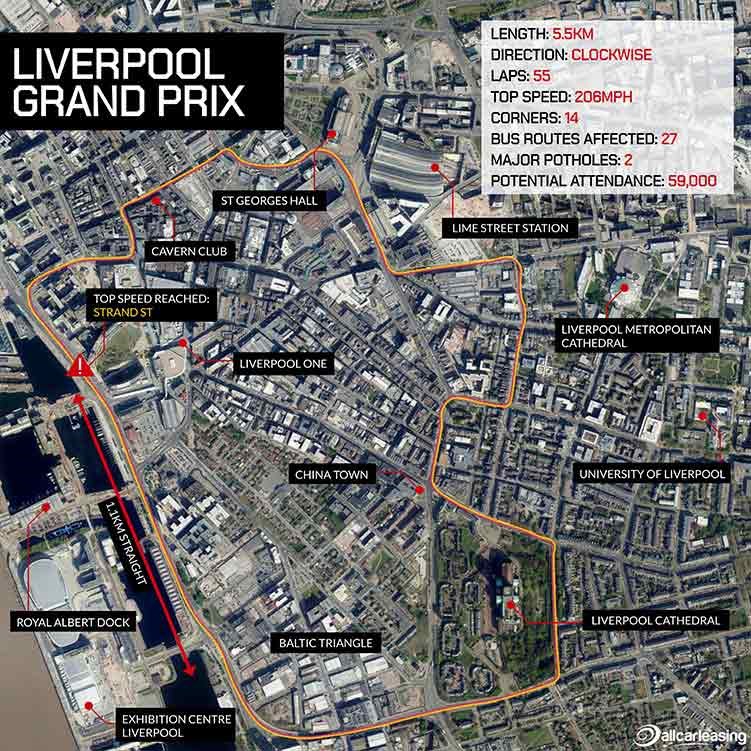 The Liverpool Grand Prix features
Liverpool's Grand Prix would arguably offer better scenery as the race begins on Wapping, besides the Royal Albert Dock. The track sharply heads towards the centre of Liverpool and goes near the Cavern Club for a taste of the legendary scouse music.
Length - 5.5 km
Direction - Clockwise
Laps - 55
Top Speed - 206 MPH
Corners - 14
Bus Routes affected - 27
Major potholes - 2
Potential socially distanced attendance - 59,000
Sites of interest - Royal Albert Dock, St George's Hall, Liverpool Metropolitan Cathedral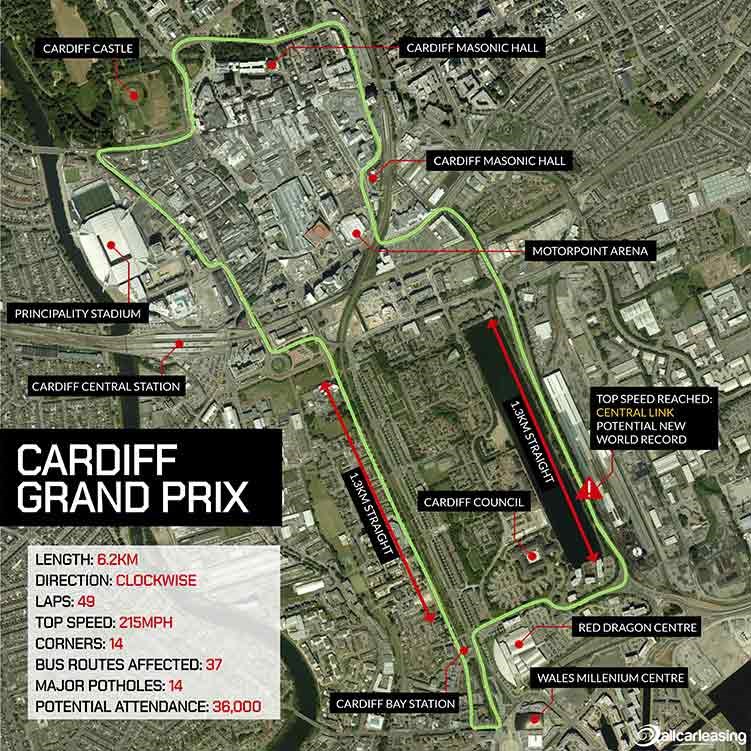 The Cardiff Grand Prix features
The first Grand Prix in Wales starts on Central Link and the drivers set off down the majority of the 1.3 kilometres straight, passing Bute East Dock to their left. The drivers pass Cardiff Arena and the Masonic Hall, making their way through a group of potholes as they wind around to Cardiff Castle.
Length - 6.2 km
Direction - Clockwise
Laps - 49
Top Speed - 215 MPH
Corners - 14
Bus Routes affected - 37
Major potholes - 14
Potential socially distanced attendance - 36,000
Sites of interest - Bute East Dock, Cardiff Arena, Masonic Hall, Cardiff Castle, Principality Stadium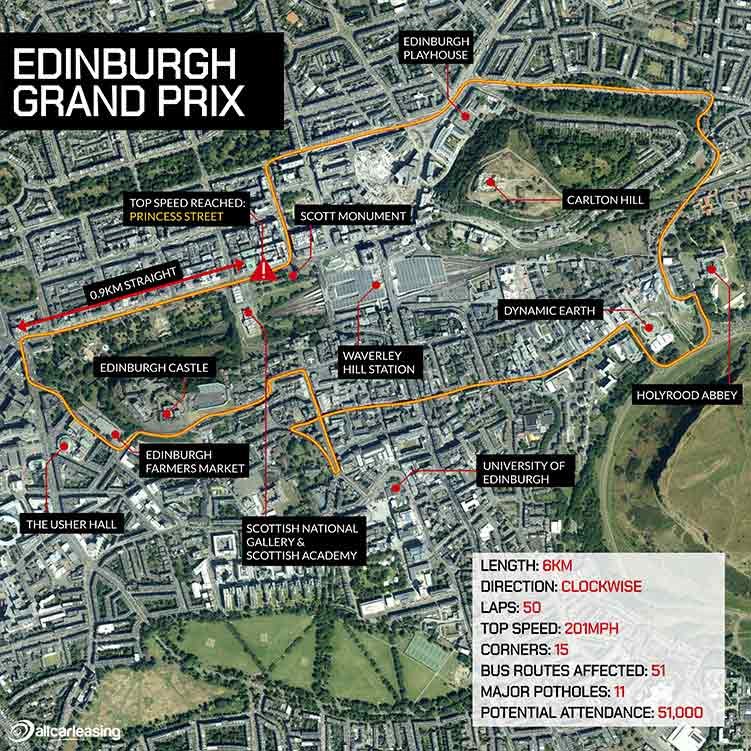 The Edinburgh Grand Prix features
Edinburgh's route commences from Princes Street and has a series of left turns that make the drivers pass Edinburgh Castle. On qualifying day, the course would disrupt the Farmer's Market that usually takes place on Castle Terrace every Saturday.
Length - 6 km
Direction - Clockwise
Laps - 50
Top Speed - 201 MPH
Corners - 15
Bus Routes affected - 51
Major potholes - 11
Potential socially distanced attendance - 51,000
Sites of interest - Edinburgh Castle, Farmer's Market, George IV Bridge, Holyrood Park, Abbey Sanctuary, Scott Monument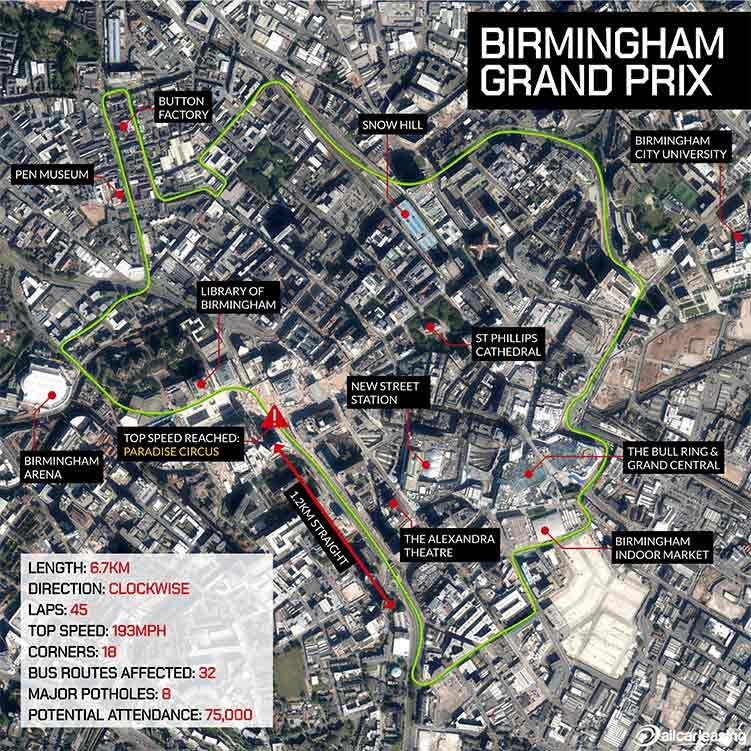 The Birmingham Grand Prix features
The final Grand Prix in the UK is less than 40 miles away from Donington Park - one of the UK's biggest racetracks. Beginning on Paradise Circus, the Birmingham circuit would have more corners than any of the other tracks with a total of 18. Some left turns would lead the drivers past the shopping centre and St Martin's in the Bullring and then head up towards St Chad's Queensway.
Length - 6.7 km
Direction - Clockwise
Laps - 45
Top Speed - 193 MPH
Corners - 18
Bus Routes affected - 32
Major potholes - 8
Potential socially distanced attendance - 75,000
Sites of interest - Button Factory, Pen Museum, Arena Birmingham, Library of Birmingham, Alexandra Theatre
Jon Lancaster commented: It would be fantastic to have one or more street circuits in the UK for racing. Using different areas would allow more fans to flock to the venues and I'm sure the atmospheres would be magnificent.
It will, of course, be difficult to outshine Silverstone as that is recognised by most as the home of motorsport, but all of these track designs provide something special and the scenes would be some of the most picturesque we would witness in viewing the races.
My favourite track in Birmingham. The first corner just lends itself to great racing as drivers can be aggressive and there's a minimum chance of incident but I'm also a fan of the first few corners of the Liverpool track! I think the biggest challenge would be the section from the Arndale Centre in Manchester all the way past Victoria Station, this would challenge the drivers and their cars to the max, making for excellent viewing.
 The sight of F1 flying around our streets right now would not only entertain fans but provide a welcome boost to the UK economy.
Preparing a street circuit requires roughly 600 staff helping set up the tracks, many will be hired to protect fans and sell merchandise. Other companies will also benefit from this event, like sponsorships, they too play a big part in this gaining worldwide exposure - it is estimated 490 million people watched the 2018 season live on TV. That exposure right now would offer much-needed advertising for any company involved.
With reduced social distancing measures due to be implemented on the 4th of July, crowds would be able to gather in a safe and controlled manner to witness these historic events whilst abiding by the rules.
Ronnie Lawson-Jones of All Car Leasing, who commissioned the tracks commented: How great would it be for more street circuits to be used for racing? We'd like to see these cities complement Silverstone, not replace it. We feel like this is an opportunity for people to learn more about the culture of different cities and witness the beauty that the landmarks in these cities have to offer."