Fighting for a Space
With seemingly more cars on the road every year, finding a decent parking spot in town and city centers around the UK becomes more and more of a fight. 
But where in the UK is it the hardest, and easiest, to find a decent car parking space for residents and visitors? To find out, we've compared the number of public car parking spaces in some of the UK's biggest towns and cities with the number of registered cars on the road, to show where it's easiest to secure a spot. 
The UK's Easiest Places to Park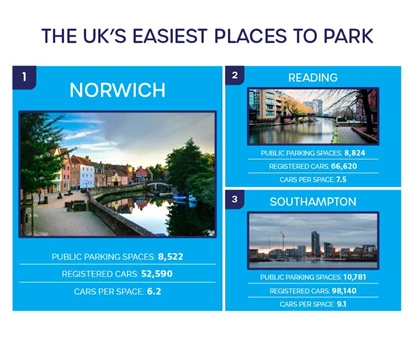 The city where motorists find it the easiest to find a place to park is Norwich, with just 6.2 registered cars for every available space in the city, with two car parks with over 1,000 spaces each.
This was followed by Reading (7.5 cars per space) and Southampton (9.1 cars per space), although some bigger cities also made the top ten, such as Glasgow (11.4 cars per space) and Manchester (12.6 cars per space).
The UK's Hardest Places to Park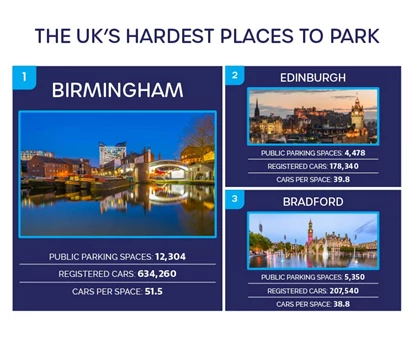 But which are the towns and cities where drivers have the biggest headaches when it comes to parking?
Despite having over 12,000 parking spaces, Birmingham came out as the hardest place to grab a spot, with over 600,000 registered cars in the city, meaning that there are 51.5 cars for every space.
This was followed by Edinburgh (39.8 cars per space) and Bradford (38.8 cars per space).
Methodology
The number of car parks in each town and city (excluding London) was sourced from Parkopedia, taking the number of public spaces in the town/city center (omitting any which were marked as only being open for customers/visitors, as well as out of town park and ride car parks). London data was sourced from Park Mark.
The number of registered cars in each town and city was sourced from the Department for Transport's data on all licensed and registered vehicles (table VEH0105), which was then used to calculate the number of registered cars per each car parking space.