Cars are the ultimate status symbol, especially for the celebrity elite, who have the bank balances to buy some of the best cars in the world and all the time in the world to show them off. This is one of the reasons why personal car leasing and business car leasing is booming because it allows customers to get a new car for less.
The general public have always had a strange fascination with the lives of the rich and famous and that exists to the cars that they drive too, but which are the celebrities whose wheels we are interested in the most, and what do they drive?
We've turned to Google data to discover which celebrity vehicles we're all searching for the most.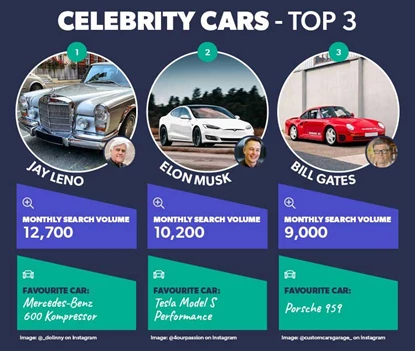 1. Jay Leno
Monthly Search Volume: 12,700
Favourite Car: Mercedes-Benz 600 Kompressor
The former US talk show host Jay Leno is the owner of one of the most impressive car collections in the world, with over 180 cars and 160 motorcycles, including restorations in his private garage all with a total estimated value of over $52 million.
Amid a collection packed with exotic motors and vintage classics, the standout model is Jay's 1972 Mercedes-Benz 600, which he had fitted with a supercharger, making it the only 600 Kompressor in existence.
2. Elon Musk
Monthly Search Volume: 10,200
Favourite Car: Tesla Model S Performance
With a net worth of over $42 billion, you'd expect Tesla CEO Elon Musk to have a pretty crazy car collection, and you'd be right.
Over the years, Musk has gone from an old 1978 BMW 320i to a McLaren F1 (which he crashed and wrote off), as well as his Tesla Roadster which was sent into space and the actual Lotus Esprit submarine car from The Spy Who Loved Me.
3. Bill Gates
Monthly Search Volume: 9,000
Favourite Vehicle: Porsche 959
As one of the richest people in the world, Bill Gates can afford any car he wants and is known for his love of Porsches.
Over the years he's owned multiple cars from the brand, including the Porsche 911 supercar which he bought as soon as Microsoft started making money, the 930 Turbo, the all-electric Taycan model and the 959, of which only a few hundred were ever made.
Methodology
Starting with a list of over 2,000 of the most well-known celebrities in the UK, according to YouGov, we used Ahrefs' Keyword Explorer to find the combined average monthly searches for the following three terms for each celebrity:
- [Name] car
- [Name] cars
- [Name] car collection