M Sport is the name of a series of trims for BMW vehicles which are named after the Motorsport department. They are different from M series cars (M3, M5, M8 etc) and M Performance cars (M135i, M330i etc). Essentially, M Sport is a level designed to make the chosen model to look and feel like an M series/performance car without the engine and race tuning that comes with it; making it deal for personal leasing and business leasing customers. Think of it as BMW's version of Audi's S Line, Ford's ST-Line and Mercedes AMG Line. 
Most people would consider M sport to be the top level but it isn't always the case as this blog post will explain.
BMW M-Sport Lease Deals
View our latest offers on all M-Sport models from BMW
What is in the M Sport package?
The BMW M Sport trim brings with it a host of internal, external and performance changes to a model and it can put the price up by a minimum of £3000 in a typical model which can rise as you go up the range. 
The name of the game with an M sports BMW is the way it looks on the outside and experience on the inside. A SE will give off a very different vibe to an M sport and that of the driver, too.
Exterior M Sport features
All M Sport models will have a small 'M' on the sides of the cars to show that it is the coveted M sport trim. On top of that, you can expect to see aerodynamic body styling which can make the car look more sporty and chunkier. 
A high gloss shadowline exterior trim which adds two tones to the colour which makes the overall car stand out much more than the SE/Sport trims. LED fog lights which can be completely absent on lesser trims, a slight spoiler depending on the model which again has a high gloss shadowline trim, 
Choose an M sport BMW for a sportier and slightly more detailed grille which is black in the middle and a chrome effect frame - BMW's kidney grille is iconic and this makes it more eye-catching and aggressive, black privacy glass in the rear (not always the case) and a sportier tailpipe which may be absent on lower trims.
Lastly, one of the more obvious changes is the larger and sportier alloy wheels and sportier-looking low profile tyres. M sport tyres and wheels are drastically upgraded with M-sport
Overall, the exterior features with an M sport packages make the model look more like the M series of that class than it does the SE. What is undeniable though is that the car looks much better and modern with the trim added on. However, it's worth noting that the exterior features in an M sport package differ quite a bit from one model to another.
What we mean by that is, a 1 Series M sport doesn't get the same as a 3 Series M sport but the desired impact is the same.
Interior M Sport features
BMW Leasing
Visit our latest offers on all models from BMW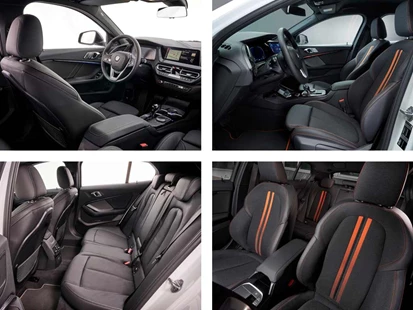 BMWs with an M sport package also get some tasty interior features and extras over preceding trims. Instantly, you'll see that the M Sport logo gets added to the improved leather steering wheel and the transmission gear stick as well as the sill in the most models. 
On top of this, outside of the 1 series, you'll get full leather sports seats which are sturdier and better equipped to deal with the stiffer suspension and lower ride height. Leather upholstery is also thrown in.
Aluminium and chrome trims are also added to boost the vehicles sense of performance luxury.
It's not just sporty stuff you get as BMW will throw in remote control keys, coloured headlining and trims throughout and an M sport instrument cluster. Some models will also get a larger fuel tank!
The infotainment system can get an upgrade to BMW Live Cockpit Professional.
All in all, BMW vehicles upgraded to M sport get a complete makeover inside changing it from a premium vehicle to a luxury one.
Is M Sport the best trim?
Many would consider it the best but it is not that simple. If someone is looking for a sporty and aggressive feel to their car then yes it is but for those looking for comfort and practicality, it may not always be the case as BMW can often provide trim levels called â"Luxury" or "Business" which will cater to them much more by adding a softer suspension and improved infotainment extras and luggage compartments.
A stiffer suspension and sports seats may not be what a business person driving for hours at a time will be after.
Is BMW M Sport worth it?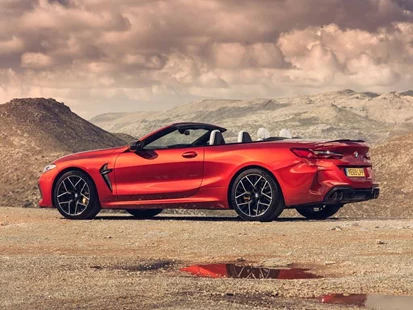 You get what you pay for with an M Sport car so it's a question that only you can answer, and you may not agree either. If you want to the very best driving experience for your BMW but you want to stop short of an actual M series car then it probably is worth it - you do get an awful lot added on.
Remember that an M sport has what a SE and Sport has and more. If you want something specific which is included in an M sport but some of the other things you can do without then consider getting them as options to a lower-trim - sat-nav, leather seats, leather steering wheel and alloy wheels are common must-haves but no necessarily the stiffer suspension and lower ride.
Alternatively, if you want to level up your model but it doesn't quite have what you need then consider going up a model instead of a trim. Check the specification on our website or BMW for more information.
As an example, a SE 3-series will have a bit more equipment than a Sport trim 1 series.
What does M series mean in BMW
The M stands for motorsport in the BMW M series. There are three different types of BMW motorsport vehicles which are full M cars, M Performance cars and M badged cars, all BMWs can be M badged cars, even the people carriers but you can only get specific M and M Performance cars, as follows:
Full M Cars
M2
M4
M5
M8
X3 M
X4 M
X5 M
X6 M
M Performance Cars
M135i
M240i
M340i
M550i
M760i
M850i
X3 M40i/d
X4 M40i/d
X5 M50i/d
X6 M50i/d
X7 M50i/Z4 M40i
Related Articles