The 2017 Range Rover Velar
The Range Rover Velar is a luxury mid-size SUV that sits right in the middle of the Evoque and Range Rover Sport; the Velar is said to be Land Rover's most road-focused car yet. It's an incredibly capable car and features a stylish ultra-modern interior.
Specifications
Engine size  2.0 
Drivetrain  4WD 
Horsepower  180 
Top Speed  125mph 
Acceleration (0-60mph)  8.4s 
Fuel efficiency  53mpg 
CO2 emissions  142g/km 
RRP - £44,830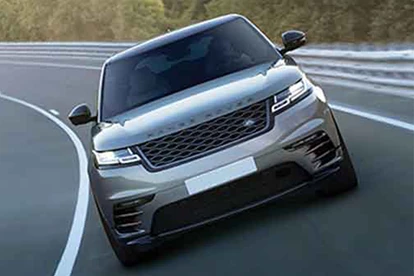 Styling
Exterior
The first thing you notice about the new Range Rover Velar is how much presence it has; It's a sporty stance, wide fenders and sloping roof makes the SUV stand out like no other in its class. Continuing the ultra-modern looks are the Tesla-inspired deployable door handles which, once travelling at speeds over 5mph will retract flush with the body. All models have LED headlights as standard and have a paint choice of either Fuji White or Narvik Black, along with this comes 18" fifteen spoke alloy wheels. Other exterior colours are available at an extra cost, with 2 tiers of metallic paint available: Normal metallic paint (Indus Silver, Firenze Red, Kaikoura Stone, Byron Blue) priced at £725 or you can opt for Premium metallic paint (Aruba, Carpathian Grey, Silicon Silver) which is £1,450.
Velar Interior
The most unique part about the interior of the Range Rover Velar is the futuristic dual 10" screen infotainment system, where Land Rover has opted for full touchscreen digital controls contrary to the traditional analogue dials. The top screen features the radio and Bluetooth controls or satellite navigation as well if selected as an extra, and the bottom screen is for temperature controls, heated windshield and vehicle settings. As for the seats, the entry-level Velar comes with heated front seats as standard and eight-way adjustable controls. There is a generous amount of rear passenger space given the size of the car and has plenty of legroom. The seats and interior cabin trim come standard with Ebony Luxtec cloth material with a variety of leather seats available as an optional extra with prices starting from £1,865.
Boot space
The velar's boot size is a whopping 558 litres, and with the rear seats folded down, this rises to 1,731 litres. If you opt for one of the 3-litre diesel engines where the electronic air suspension comes as standard, you can lower the rear suspension from the boot making it easier to load heavy luggage.
Leasing Rivals
In the luxury SUV market, the main contenders the Velar is up against are the Porsche Macan, BMW X5 and Audi Q7; however, the market has shown that the Velar is one of the most anticipated SUV of 2017. With the British public currently obsessed with crossover models, we expect to see many Velar's out on the road over the next year.